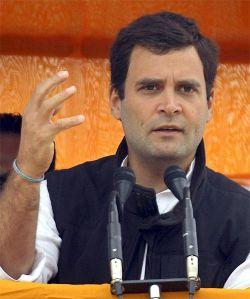 Rahul Gandhi on Saturday did some plain speaking as he slammed infighting among Congress leaders and asked them to maintain unity during his first meeting with state leaders after being formally assigned to lead the party's campaign for Lok Sabha polls.
"There may be differences among you on certain issues but you have to fight the polls unitedly to ensure the party's victory," Rahul, the Congress vice-president, said at the meeting with PCC chiefs and AICC delegates.
During his interaction with leaders from Madhya Pradesh, where Congress suffered a humiliating defeat, Rahul said he knows that the party "lost due to infighting among senior leaders".
Rahul separately met AICC delegates from each state and sought to learn of the issues which are likely to be prominent for the Lok Sabha polls. He also sought to find out about the strength of the Congress organisation in each of the states.
Rahul was also told by leaders from some states, including Chhattisgarh, that those constantly creating trouble within should be thrown out of the party.
Delegates from Uttar Pradesh complained to Rahul that central ministers remained mostly inaccessible to them but, when available, did not do their work.
Some delegates urged Rahul to go for a roadshow on the lines of those undertaken by Rajiv and Sonia Gandhi to connect with the ordinary party workers.
Meanwhile, with the focus now on finding new allies for the party ahead of the upcoming general elections, he also made it clear during his interaction with leaders from Bihar that any alliance would be formalised keeping in mind the party's interests.
If a respectable number of seats was not offered to Congress, it may even go it alone for the polls in the state in question, he added.
Congress had fought the 2009 Lok Sabha elections alone after breaking off from an alliance with RJD and LJP. The party had followed that course after it was offered only three seats by RJD chief Lalu Prasad Yadav.
Congress, on its own, had then won two seats while RJD could muster four seats out of the 28 contested. LJP had failed to open its account on the 12 seats it fought.
In that regard, a member from Jammu and Kashmir said that Congress should fight the elections on its own and not as part of an alliance with National Conference.