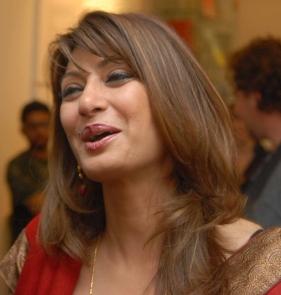 Sunanda Pushkar, who was found dead in a Delhi hotel on Friday night, had undergone a series of medical tests at a super-specialty hospital in Thiruvananthapuram earlier this week.
Authorities at Kerala Institute of Medical Sciences Hospital in Delhi said the doctors, however, did not take any immediate decision on the course of treatment or medicines to be given.
Instead, they then decided to wait till all results are obtained and then meet again and decide on the future course. Sunanda, who was upset over an alleged extra-marital affair between her minister husband Shashi Tharoor and a Pakistani journalist, was found dead in a five-star hotel room on Friday night.
Sunanda had undergone a detailed medical examination at the hospital where she spent two days on January 13 and 14. Tharoor was also with her and the couple appeared "jovial", sources said.
Their plan was to return a few days later and decide on the treatment, based on results of the tests, the sources said. However, the hospital sources declined to divulge specific details of the tests. They said the medical board would hand over the results to police, if required.
A meeting of the doctors is underway in the hospital to look into the results.
"A meeting of the medical board is on to consider the results of the test. We cannot say anything now on the matter," a hospital spokesperson said. Meanwhile, a spokesperson of Tharoor said that Sunanda's cremation was likely to take place in Delhi.
However, a final decision would be taken after the post-mortem. Sunanda's son Shiv is already in Delhi. Tharoor's sons Ishaan and Kanishk are expected to reach Delhi. The minister's sister Smitha has also left for Delhi from London.
The news of the death of Sunanda came as a shock to people in Thiruvananthapuram, from where Tharoor contested and won easily in his electoral debut in 2009 Lok Sabha polls.
The Congress in the state is yet to react to the development as most of its leaders like Home Minister and Kerala Pradesh Congress Committee president Ramesh Chennithala are yet to return to the state from Delhi in connection with the All India Congress Committee meeting.
Leaders from the opposition parties have so far chosen to react in a subdued manner.
The police had stepped up protection to Tharoor's constituency office in the heart of the city as soon as the news of his wife's death in a Delhi hotel spread. The Tharoor couple, married in August 2010, were seen together at the famous Sree Padmanabhaswamy temple during the 'Lakshadweepam' festival on January 14.