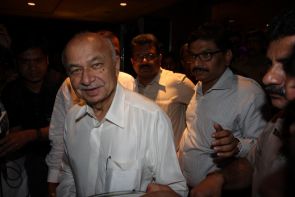 Home Minister Sushilkumar Shinde on Monday met Prime Minister Manmohan Singh as the government grappled with the Delhi Chief Minister Arvind Kejriwal's sit-in.
Shinde's meeting with the prime minister came sometime after a meeting of the Union Cabinet.
There has been talk that the Home Minister was consulting legal experts on the issue of proceeding against Kejriwal who has made serious charges against him on money exchanging hands for transfer and posting of SHOs of Delhi Police.
Shinde left the Cabinet meeting but returned after 45 minutes to meet the prime minister. As he reached the prime minister's official residence, the Cabinet meeting had just ended.
He was with the prime minister for nearly 20 minutes.
There was no official word on what transpired at the meeting which came as Delhi witnessed an unprecedented face-off between the Centre and Kejriwal who on Monday began a dharna in front of Rail Bhavan calling himself an "anarchist" and asking "honest" police officials to take leave and join his protest demanding action against some of their colleagues.
Defying prohibitory orders in force in the high-security area near the seat of power, Kejriwal accompanied by six of his ministers, came down hard on the Centre for the current situation arising from their demand for action against officials who refused to raid an alleged drug and prostitution racket in an area in South Delhi.
"Some people are saying that I am an anarchist. I am spreading disorder. I agree I am an anarchist. Today, I will create anarchy for Shinde," he told his party MLAs and supporters at the dharna site.