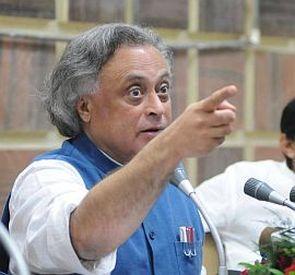 A few days after praising the Aam Aadmi Party government, Union minister Jairam Ramesh on Monday attacked it, saying Chief Minister Arvind Kejriwal and his colleagues were an "embarrassment" and not "sober people" for governance.
He also ruled out the possibility of handing over Delhi Police to the state administration.
"Agitation is all about poetry, governance is all about prose. They have not made the transition from being agitationists to administrators. Every day they are becoming an embarrassment," he said when asked about agitation of Kejriwal and his six ministerial colleagues demanding action against some police officials.
The Congress leader, who was earlier ticked off by his party for praising the Aam Aadmi Party, said that the manner in which they have conducted themselves in the last two to three weeks in government raises serious questions.
"There is a question about their ability to govern. It shows that they are brilliant agitators, but they are not serious and sober people for governance," the Rural Development Minister told reporters.
He said that no government can agree with their demand that Delhi Police should be handed over to the state government and a similar demand made by Sheila Dikshit in 1999 was turned down by then Home Minister L K Advani.
"No government can agree to handing over Delhi Police to state administration because of the peculiar nature of Delhi and the special importance Delhi has," he said.
The Congress leader also questioned Kejriwal's statement during the assembly election campaign that ruling Delhi is not rocket science.
"The statement of Kejriwal that governance is not rocket science is completely wrong. Governance is rocket science. Governance is highly complex process," said Ramesh.
The minister's statement came after Kejriwal and his Cabinet colleagues, defying prohibitory orders in force in the high-security area near the seat of power, attacked the Centre for the current situation arising from their demand for action against officials who refused to raid an alleged drug and prostitution racket in an area in South Delhi.