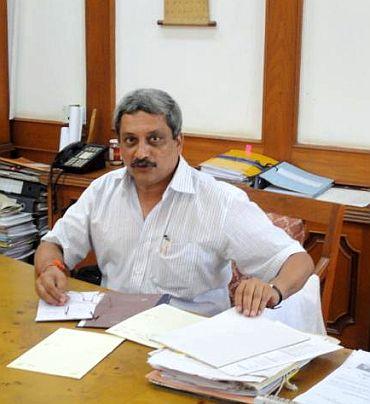 Bharatiya Janata Party leader and Goa Chief Minister Manohar Parrikar has hit out at both Delhi Chief Minister Arvind Kejriwal as well as Samajwadi Party Uttar Pradesh Chief Minister Akhilesh Yadav for what he termed as their "failure to deliver."
Parrikar was speaking at a meet of intellectuals organised by the UP unit of the BJP as a part of the party's campaign to push Gujarat Chief Minister Narendra Modi's case for prime ministership.
While flaying Akhilesh and the SP for "misusing" the state exchequer for the political gains of his party, Parrikar said, "The simplicity displayed by Kejriwal has failed to benefit the people of the Delhi." He emphasised, "The simplicity may add to the personal character of an individual but it may not help in improving governance."
Parrikar's focus on Kejriwal seemed to reinforce the impression that the BJP was still quite concerned about the growing AAP influence, that could put brakes on Modi's march in UP.
Parrikar, who is himself known for his 'aam aadmi' ways, said in a passing reference, "I also do not live in a government accommodation and also prefer to drive out on my scooter, but there are many occasions when I need to use the official car of the chief minister and I see nothing wrong in that."
Highly critical of AAP leader Prashant Bhushan's remark favouring referendum in Kashmir, the he wondered, "How can a party which believes in echoing "Bharat mata ki jai" even suggest something like a referendum in Kashmir?" He added,"Kashmir is an integral part of India and we should be least inclined to part with even a small portion of our land."
Referring to the issue of corruption, he said, "While there was urgent need to curb the rampant corruption in the country, I do not see the Lokpal alone as the sole instrument to bring the malady to an end."
He further sought to ask, "What will happen if the Lokpal himself turned out to be corrupt ?"
Parrikar was of the view that the UP government needed to devote more attention to the larger good of the people of the country's most populous state rather than concentrating only the good of a section of the society to push the political interest of the ruling party.
Expressing deep concern over the prevailing state of affairs in UP, he felt the chief minister was expected to rise to the occasion and take UP out of the woods.
"What many chief ministers in the country needed to imbibe is the Gujarat model of development, which shows the way for the nation's growth, security and employment," he said, while strongly advocating for Modi as the next prime minister.