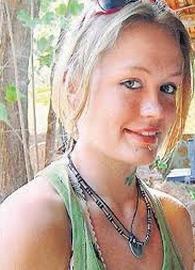 Fiona Mackeown, mother of British teenager Scarlett Eden Keeling, who was found dead on Anjuna beach six years ago, has accused the erstwhile Congress government of "hushing up" the case and demanded speedy justice for her daughter.
Mackeown has written a letter to Goa Chief Minister Manohar Parrikar demanding a speedy trial in the case, which was chargesheeted before the children's court in Panaji.
Fifteen-year-old Scarlett was found dead in a semi-nude condition on Anjuna beach on February 18, 2008.
"My daughter was sexually assaulted and murdered at Anjuna Beach in Goa by some local persons, whom she trusted. I understand that the men who committed this crime were politically connected and were protected by powerful persons in the previous government," reads the letter, the copy of which is available with PTI.
"The previous government in Goa tried its best to hush up the matter, but due to a strong intervention by the Indian media and your stand as the Leader of the Opposition then, the matter was handed over to the Central Bureau of Investigation, which I was informed was the finest investigation agency in India," she said.
She said she had been informed that the Goa government had put up the case in a fast track court and there was a possibility for her to get justice within months.
"When you became the chief minister of Goa, I was told by many people that not only were you a very honest man, but you also had a strong sense of justice and the required clarity of mind to provide solutions on the ground," the mother, who ran a campaign after Scarlett's death, has said.
The CBI, which has probed the case, has already chargesheeted two locals for drugging, raping and leaving Scarlett to die on Anjuna shore.
"I am no different from any Indian mother and my heart will never stop grieving for my daughter. Every the fibre of my being wants to punish those who killed my daughter, but I do not have the strength or the means to identify and punish them," Mackeown said.
"The men who killed my daughter have walked free for the last six years, while my daughter lies buried and as her mother, I stand helpless in the hands of an administration for which justice has clearly taken a back seat," the letter read.
"As the leader of the opposition in 2008, you stood as a beacon of justice. I hope me and my other children will still be able to look up to you with the same respect. Six years is a long time, and Scarlett deserves justice which lies in the hands of your administration," she said.
The letter further says, "I do understand that justice is a right for every citizen, but rather than demanding that right, I would be grateful for your intervention in the matter."

Image: Scarlett Keeling was found dead on Anjuna beach on February 18, 2008