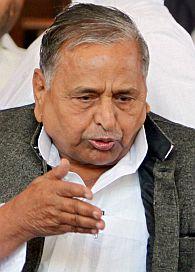 Claiming that neither the Congress nor the Bharatiya Janata Party would gain majority in the upcoming Lok Sabha polls, Samajwadi Party supremo Mulayam Singh Yadav on Monday said the Third Front would form the government at the Centre and his party would "play a key role".
"Congress or BJP is not going to get majority... Third Front will form the government," he told a party rally in Gonda, adding that SP was the biggest party of the bloc.
Referring to certain leaders' observations that SP was limited to Uttar Pradesh, he said, "UP has the maximum number of Lok Sabha seats (80), and no government can be formed at the Centre without its role... if SP gets 70 of these seats it can play a key role."
Exhorting the people of the state to help the party win maximum number of seats, Yadav said with his party playing an important role at the Centre it would ensure that farmers, youths and unemployed get all facilities as there was "no dearth of funds in Delhi".
Referring to 1993 when his party took support from BSP to form the government in UP, Mulayam said the decision to take support from BSP was wrong, which led to the latter's rise.
"Sometimes in politics some wrong decisions are made, and BSP is the result of one such wrong decision... But gradually it is being wiped out," Yadav said.
Earlier, UP Chief Minister Akhilesh Yadav listed the achievements of his government, and inaugurated nine projects and laid the foundation stone of 54 others.
Senior UP minister Azam Khan, in his speech, termed Congress as a party which "humiliates" Muslims, and BJP prime ministerial candidate Narendra Modi a "murderer of Muslims".
On the occasion, the SP chief presented before the people the party's candidates from the different seats of the region, including Gonda from where Union Steel Minister and former confidant Beni Prasad Verma is the sitting MP.