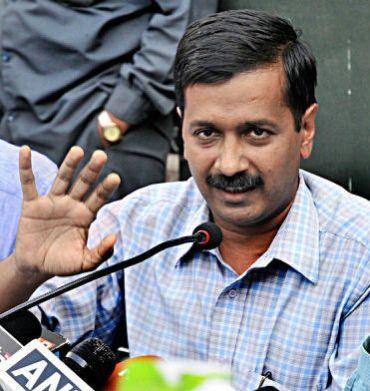 While Narendra Modi and Mulayam Singh Yadav rallied in front of a packed house, rain played spoilsport and reduced the supporters at Arvind Kejriwal's gathering to a few thousands

With three major rallies across Uttar Pradesh on Sunday the state felt the rising heat of this poll season.

While this was the fourth time that Bhartiya Janata Party prime ministerial nominee Narendra Modi's Lucknow rally coincided with that of Samajwadi Party supremo Mulayam Singh Yadav's gathering in Allahabad, Aam Aadmi Party chief Arvind Kejriwal too joined in with a road show in Kanpur making it a triangular fight.
Interestingly, each of the three leaders went about taking potshots at each other. But of course, the battle of words appeared to be more pointed and sharp between Mulayam and Modi.
Modi, who seemed to be keeping track of Mulayam's attacks against him, made it a point to give pointed retorts, while Kejriwal trained his all guns with particular focus on the Congress and the Bharatiya Janata Party.
For a change both Mulayam and Modi appeared to be addressing the Muslim constituency. While Mulayam was too blatant in invoking the Muslim sentiment by doing his best to impress upon the community that he was their sole messiah, Modi chose to emphasise how he was capable of bringing prosperity in their lives.
Mulayam's man Friday Azam Khan who happens to be the most powerful minister in Akhilesh Yadav cabinet, went a step further. "If Mulayam Singh Yadav had not been a true messiah of Muslims, he would not have ordered firing on kars sevaks in Ayodhya in 1990 when he went all out to save the Babri Mosque," said Azam Khan.
Both Mulayam and Modi sought to make passing reference to Kejriwal against whom they seemed to have very little arsenal. But evidently, they could not ignore the AAP, which they see as a potential spoiler for their respective parties.
Rain not only disrupted the arrangements at the Kejriwal rally but also dampened the spirits of the supporters who were reduced to a small gathering of a few thousand people. However, undaunted by the odds, Kejriwal spoke with conviction and enthusiasm, while highlighting the failures and corruption of the United Progressive Alliance as also pointing out how the Congress and BJP were hand-in-glove when it came to issues like corruption and misgovernance.

Image: AAP leader Arvind Kejriwal