Bharatiya Janata Party's in-charge on Uttar Pradesh Amit Shah predicts that Narendra Modi's Vijay Shankhnaad Rally in Lucknow on Sunday will be a blockbuster.

Rediff.com's Sharat Pradhan reports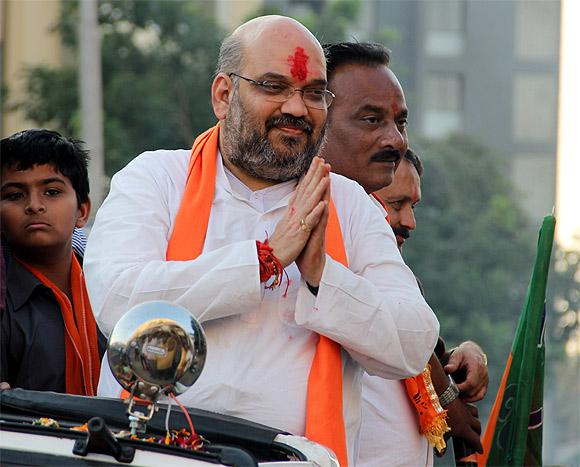 Sunday's public rally of Bhartiya Janata Party's prime ministerial nominee Narendra Modi is expected to draw more than a million people, claims his man Friday and the party's in-charge on Uttar Pradesh Amit Shah.
Jointly addressing a press conference with state BJP chief Laxmi Kant Bajpai at the rally venue -- Rama Bai Ambedkar Park -- Shah said: "Tomorrow's rally in Lucknow will be historic in terms of the crowd it is expected to draw."

"Modi ji's rally in Lucknow will give a new direction to the politics of Uttar Pradesh."
The only time that the sprawling ground has been seen packed was at rallies addressed by Bahujan Samaj Party supremo Mayawati. More recently, she addressed a mammoth rally at this very ground on her 58th birthday on January 15, when she launched her party's election campaign.
Shah, however, declined to state whether Modi will contest from Lucknow, as has been speculated for quite some time now.

"He has yet to decide his Lok Sabha constituency," Shah pointed out.
This will be the last of Modi's pre-election series of rallies titled 'Vijay Shankhnaad Rally', he said.
Modi, who has addressed six rallies in different parts of the state, has been drawing huge crowds everywhere.

His first rally was held in Kanpur followed by Jhansi, Bahraich, Varanasi, Agra and Meerut.

According to observers, so far the biggest gatherings were witnessed in Kanpur and Varanasi.
According to Shah, lakhs of people had already arrived for the rally and more arrivals were expected through the night from different parts of the state and from neighbouring states.
As many as 29 special trains had been booked by the party to ferry volunteers for the rally from different corners of UP as well as other states. There was no count of buses, trucks and other vehicles which had already started converging towards Lucknow.