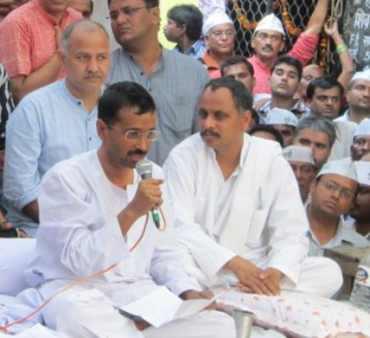 Aam Aadmi Party leader Arvind Kejriwal broke his indefinite fast against "inflated" power and water bills on the 15th day on Saturday, claiming that his protest has made power and water election issues for the upcoming Delhi polls in which the Congress and the Bharatiya Janata Party will be "wiped out".
After breaking his fast in Sunder Nagri, he claimed people are fed up with both the Congress and the BJP.
"These parties will be wiped out in the elections. What is the outcome of my fast? It has made it clear that next election will be fought on the issues of power and water," he said. He alleged the BJP and Congress are two sides of the same coin.
The fast also saw Hazare visiting Kejriwal at the protest site on March 29 and urging him to end his fast.
Later, Kejriwal also got the support of activists Aruna Roy and Medha Patkar, who had differences with him over his stand on the Lokpal Bill and anti-corruption movement entering politics. They emphasised on the need for a Comptroller and Auditor General audit of private discoms in Delhi.

Image: Kejriwal addresses his supports after breaking the fast on Saturday | Photograph: Aam Aadmi Party/Facebook