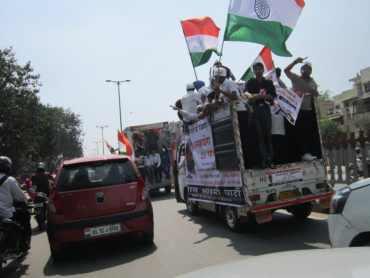 The police on Monday stopped activists led by Arvind Kejriwal's Aam Admi Party from marching to Delhi Chief Minister Sheila Dikshit's residence to deliver around eight lakh letters they claimed to have collected from Delhiites who have decided not to pay electricity bills.
The activists were stopped on Bhairon Road near Pragati Maidan on Monday afternoon. The traffic near Pragati Maidan was also affected due to the protest.
The police told them that a small delegation will be allowed to meet Dikshit.
AAP leader Manish Sisodia said that the delegation would consist of 272 people from 272 wards of Delhi. Meanwhile, AAP leader Arvind Kejriwal's fast against the alleged inflated power and water bills today entered the tenth day.

Image: Aam Admi Party's rally to Sheila Dikshit's residence | Photograph: Aam Aadmi Party/Facebook