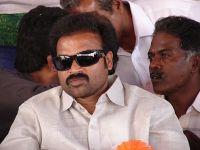 B Sriramulu appears to be in neck deep trouble as he is struggling to find allies to fight the upcoming Karnataka assembly elections.
The former aide of mining tycoon-cum politicians Reddy brothers has witnessed unpredictable highs and lows in the recent past.
Not only did a tie up with the Janata Dal-Secular not work, but his closest aides, the Reddy brothers, have refused to fund the party for the elections.
Sriramulu had broken away from the ruling Bharatiya Janata Party and formed the BSR Congress. He won by a huge margin in the Bellary by-poll that followed. However, he put up a disastrous performance in the urban local body polls and this marked the downfall of the party.


Sriramulu's first attempt was to enter into a tie-up with the JD-S. He sent out many feelers to the party, but nothing materialised.
The JD-S was very cautious and decided not to associate itself with Sriramulu as they felt it may not send a good signal among the voters.
Moreover, it was Sriramulu and the Reddy brothers who had hurled corruption charges against JD-S chief H D Kumaraswamy while he was the chief minister and a tie-up after that would not have looked good for the JD-S.
However, what has surprised many in Karnataka is the meeting that Sriramulu had with Chief Minister Jagadish Shettar.
While Sriramulu's party maintains that it would fight the elections alone, they also say that the BJP wants them to field weaker candidates against important leaders in the BJP.
The BJP however rubbishes this and says that there is no question of a tie-up with the BSR Congress party.
Now what has made Sriramulu this desperate that he decided to approach the BJP which he had quit? Sources say that Sriramulu had met with Janardhan Reddy in jail and after discussing the political scenario, the latter refused to fund the BSR Congress.
Moreover Karunakar Reddy, who decided to stay back in the BJP and fight the election from Davangere, also advised his brother not to fund the BSR Congress.
The Reddy brothers felt that the BSR Congress ought to have become a formidable force in the Bellary region. However, they do not see that happening and hence feel that it is better to stay away.
Staying back in BJP is a better option when compared to joining the BSR Congress which they themselves had encouraged at one point in time.
At the moment it appears that Sriramulu would fight the elections by himself. He would need at least 5 seats to remain in contention in Karnataka failing which he may just have to wind up his party.