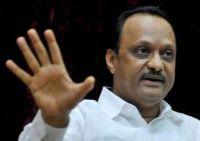 Facing a storm of protest over his "urine" remarks on drought situation in Maharashtra, Deputy Chief Minister Ajit Pawar sat on a day-long 'aatma-klesh' (penance) fast at Karad in Satara district Sunday morning.
The Nationalist Congress Party leader launched his fast at the memorial of the late Yashwantrao Chavan, the first chief minister of Maharashtra.
Ajit's uncle and NCP supremo Sharad Pawar had Saturday called his remarks as inappropriate.
Ajit has already apologised for his controversial remarks, but the Opposition Shiv Sena, Bharatiya Janata Party and Maharashtra Navnirman Sena have stalled the proceedings of state legislature for the last three days, seeking his resignation.
Talking to reporters on Sunday, Ajit said his fast was an attempt at repentance, and not a stunt.
NCP spokesperson supported Ajit's attempt at penance. "He accepted his mistake with a big heart. He is sensitive, so he felt the pain," NCP spokesperson Nawab Malik said in Mumbai.
"The matter should be closed as he has apologised," Malik added.
However, Shiv Sena leader Diwakar Raote said Ajit Pawar should have resigned instead of going on a fast.
MNS chief Raj Thackeray too maintained that Pawar should resign. "There is no use of expiating after the incident," he said.
BJP leader Vinod Tawde said Pawar should resign and work for the drought-affected people.