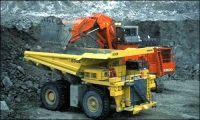 But nobody in Karnataka is looking to raise the Bellary illegal mining issue in election campaigns
The Congress has finally given in to the rebellion staged by mining baron Anil Lad in the run up to the Karnataka assembly elections.

He will now contest the elections from the Bellary city.

The Congress has decided to go ahead and take this risk of fielding Lad, whose name finds a mention in the illegal mining report of the Karnataka Lokayukta.


The Congress had wanted to keep away persons remotely connected to the mining lobby from the poll fray. However, Anil Lad had threatened a major rebellion and had even decided on fielding his own candidates in all 8 constituencies in Bellary.


There was also question mark on whether Lad's cousin Santhosh Lad would be given a ticket.

The high command was upset, as he had allegedly cross voted during the council elections. However, they were not able to prove that he had done so.

Despite opposition, even Santhosh managed to get a ticket and will contest from the Kalghatgi in Dharwad district.


The BJP, however, is hell bent upon not giving tickets to anyone from the mining community in Bellary.

Although they have given a ticket to Karunakar Reddy, he will not be fighting the elections from Bellary.

Most parties want to avoid the mining issue to the maximum.

The Janata Dal-Secular, which was given many feelers from the Sriramulu-led BSR Congress, has decided to stay away from Bellary for it may hamper their chances in other parts of the state.


Justice Santhosh Hegde, former Lokayukta of Karnataka who has dealt extensively with the mining issue, says that this ought to be made an issue.

The people have suffered due to illegal mining and have every right to question what measures are being taken for their welfare, he says.


Coverage: Battleground Karnataka