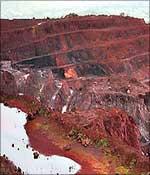 The rampant mining in Karnataka and the politicians who minted money from it made headlines during the state election in 2008. But this year, the issue has taken a backseat and mining barons like Janardhana Reddy have been kept away from the electoral fray.
This change can be attributed to the report on illegal mining drawn up by then Karnataka Lokayukta Justice Santosh Hegde, which was subsequently taken up for a follow-up by the Supreme Court and the Central Bureau of Investigation.
In an interview with rediff.com's Vicky Nanjappa, Hegde says that corruption is not an issue in this year's election as it has been accepted by everyone.
The BJP has been targeted over corruption by its opponents. How major is the issue of corruption during this election?
There is really nothing to say about corruption being an issue since it won't be one. Each one of these candidates, instead of taking on their opponents on the issue of corruption, appear to be in a blame game mode. The existence of corruption is accepted by the political parties in Karnataka.
Every day we read about liquor, cash and other freebies being seized. The fact that the candidates are resorting to such tactics only shows that they nurture the ambition to win the lection by hook or by crook. Now such tactics are being resorted to by all parties in the state. This only shows how much value and respect these political parties have for the voters; they are even prepared to buy their votes. I only hope that the electorate does not succumb to such tactics.
Mining barons have been left out of the race in Bellary. Does that indicate a victory for the report on illegal mining?
I would not say it is a victory per se. There has been awareness (about the report) and the political parties have taken note of it to a certain extent. But one must not forget the nation-wide reaction towards corruption in business, politics and administration. Such protests have had an impact on the mining issue as well. Few of the mining barons have been kept out of the race this time and that is a very good sign.
Many term the existing government as a corrupt one. Do you foresee any change in the future? Can Karnataka expect clean governance?
I do not foresee any change in the near future. However, in the years to come, I am sure there will be a change as awareness will rise among the people. Corruption will remain irrespective of whichever party forms the government.
Let the political parties remember that the chances of them getting caught are also very high as there is a great deal of awareness already. I think the path to clean administration is a slow path but I am sure it would be a reality very soon.
There was hardly any coordination between the Lokayukta and the state government in the past five years. Do you think this trend will continue?
Coordination (with the Lokayukta) is not something that any of the political parties want. Every politician is afraid of this body and hence they will ensure that there is no coordination. We have seen delays in appointing a Lokayukta and this is mainly because they want to avoid this institution as much as possible.
Are you happy with the fact that this time there are no major lobbies which are controlling the elections in Karnataka?
While I am happy that there is no lobby, I would also like to point out that there is no need of a lobby. Each politician has money strapped on to him. This being the case, why would he or she need a lobby? The money lobby is already in play.
Will mining be an election issue?
Mining should be an election issue. I am sure it will be a factor in this election, especially in those belts in which people have suffered due to illegal mining activities. I sincerely hope the people of these belts do not let go of this issue. They must question the political parties about this issue and also quote the report of the various agencies. Unless the people do this, I do no see any change taking place.