Anil Lad, whose name figures in the illegal mining report, claims that his own partymen want to see him defeated, reports Vicky Nanjappa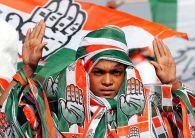 After much deliberation and lobbying, the Congress has given into the demand to field Anil Lad from the Bellary city constituency. The opposition to Lad's candidature was because his name figured in the illegal mining report.
A bitter Lad has been complaining of undertaking a lonely campaign. There were seven Congress contenders to this constituency and on Friday they all stayed away from Lad's campaign.
Lad told rediff.com that there was a negative campaign against him and his own partymen want to see him defeated. "Not only are they not campaigning for me, but they are also spreading rumours against me. I have complained to the high command," said Lad.
Lad's opponents in the Congress maintain that a person whose name figures in the illegal mining report ought not to have been given a ticket. They are also upset with him for the manner in which Lad had openly threatened of breaking away from the party and fielding his own candidates in all the constituencies in Bellary.
Lad, however, faces a lonely campaign. He has his wife Aarti by his side along with a few of his followers. Senior Congress leader Mallikarjuna Kharge too campaigned for him.
But the recent developments are a worry for the Congress. Senior leaders have been keeping away from his campaign in Bellary city and even corporators have not been cooperative. With dissidence within the Congress, the party could face an uphill task in the 29 constituencies in Bellary.
What has hurt the Congress even more is that they began the campaign with an advantage after putting up a great show in the Urban Local Body polls. But today they are upset with the events that are taking place in constituencies such as Hospet and Bellary city where the dissidence is high.
Lad, however, seems confident and says that he will win hands-down. "This will be my gift to Sonia Gandhi. I would still be happy if the Congress stood united and I am even prepared to talk to all of them and sort out the issue," he says.
Complete Coverage: Battleground Karnataka 2013