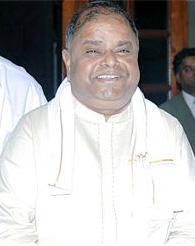 The Congress was quick to point out flaws in the Bharatiya Janata Party on the illegal mining issue. For a long time the Congress stuck to its guns and decided not to field any mine-tainted candidate from Bellary. However, this time the party has given in and fielded two candidates whose names are part of the illegal mining report by the state Lokayukta.
K C Kondaiah, a senior leader of the Congress, is a popular face in Bellary. He in fact was credited with the victory of Sonia Gandhi when she beat Sushma Swaraj in 1999. Kondaiah says in this interview with rediff.com's Vicky Nanjappa that despite fighting against the mining lobby, the Congress has sadly fielded two candidates from the same lobby.
What is your prediction for Bellary?
The Congress has an upper hand and we have launched a major campaign in Bellary. However, the trends are not clear as yet and we could give a better picture by Monday.
On one hand you fought Janardhan Reddy on the illegal mining issue. Today you campaign for a party that has fielded candidates from the mining lobby.
We fought against the Reddy brothers. Things had changed a lot after our battle against illegal mining. Sadly, the Congress has fielded two candidates from the same lobby.
You mean Anil Lad and Abdul Wahab. How do you think their chances are?
People are expecting them to bring in a lot of money. Their chances are good.
What about the BJP?
BJP this time will do badly in Bellary. I think only Anand Singh has a fair chance.
Has the money power come down in Bellary?
Yes it has to a large extent. But I think during voting, money will still play a very big role.
What have the implications of illegal mining been on the voter?
About 10 percent of the population of Bellary has been worst affected by illegal mining. However, I find that people are a bit lethargic towards the issue. Their concern is that they will get Rs 1,000 on polling day.
You were upset with the candidature of Anil Lad. Have you stayed away from the campaign?
No I have not stayed away. I campaign in the rural parts of Bellary. However, I make it a point to stay away from the media. I am often asked as to why am I campaigning for the Congress which has fielded two candidates from the mining lobby. I am also asked why I did not protest against the candidature of these persons especially when I led a campaign against illegal mining. I had opposed the candidature. It is sad that it was overseen.
If I criticise anymore, then it would like I am disgruntled since I did not get a ticket to contest. I have told all my followers that no matter what I will continue to take up the cause and fight the issue.
Bellary has had three ministers at one time in the past five years. What are the issues that require attention today?
Water, hospitals and education. Any leader who is committed can resolve these issues in no time. Moreover we also have a problem with our internal roads which need immediate attention. Street lights are another issue that needs to be addressed.
What do you think of the chances of Sriramulu after he broke away from the BJP and formed the BSR Congress party?
Sriramulu himself has a chance. But his party will not fare well in other parts. He has given the people a lot of false assurances and he is one candidate who will use a lot of money to ensure that he wins.
Are the Reddy brothers united and do they stand behind Sriramulu?
Karunakar Reddy is aloof today. He is contesting from Davangere and has no association with Sriramulu. However Janardhan Reddy is backing Sriramulu a lot. In fact he gets instructions every alternate day from Reddy who is in jail.