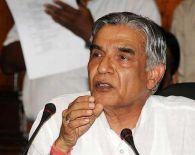 A day after he was forced to step down, former Railway Minister Pawan Kumar Bansal on Saturday night maintained that he had nothing to do with the bribery allegation for which his nephew was arrested by the Central Bureau of Investigation.
"I have nothing to do with it (bribery allegation)," Bansal, the Lok Sabha MP from Chandigarh, told mediapersons in Chandigarh on arrival from the national capital.
Bansal, along with his wife Madhu and two sons, reached their home in an SUV without red beacon light.
In a brief interaction with the media he said, "I have welcomed the CBI inquiry and it is investigating the matter."
He declined to take any further questions.
Bansal had resigned on Friday.
Bansal's nephew Vijay Singla was arrested last Friday for allegedly accepting Rs 90 lakh as bribe for helping in the promotion of a Railway Board Member Mahesh Kumar.
In his resignation letter, Bansal had maintained that he was not aware that Singla was in contact with Kumar but he still thought it proper to step down.