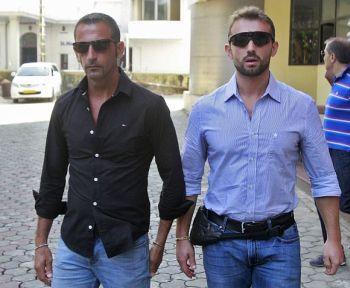 Two Italian marines, accused of killing two Indian fishermen off the Kerala coast, may escape death penalty with the home ministry on Tuesday agreeing not to press for the capital punishment against them.
The home ministry conveyed this view to Attorney General G E Vahanvati during a meeting here, highly-placed sources told PTI.
The ministry is of the opinion that the duo should be tried under anti-terrorism Suppression of Unlawful Acts against safety of Maritime Navigation And Fixed Platforms on Continental Shelf Act but the provision for death penalty should not be invoked.
The ball is now in the court of the AG, who is expected to give his opinion shortly, the sources said.
The development came a day after the Supreme Court asked the government to resolve within a week all disputes arising over the issue of invoking anti-piracy law against the two.
The MHA view is in consonance with the commitment given by India to Italy that provisions for death penalty will not be invoked against the two in the case related to 2012.
National Investigation Agency has sought sanction to prosecute the two marines -- Massimiliano Latorre and Salvatore Girone -- under SUA, which states that if a person causes death to any person, he shall be punished with death.