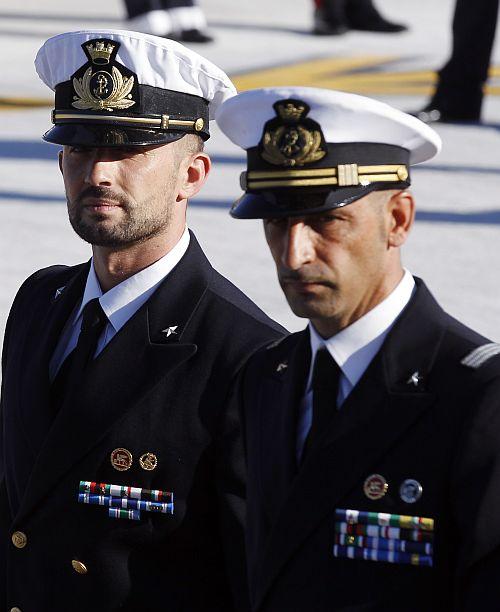 The National Investigating Agency on Thursday told a special court New Delhi that it was "ready" with a charge sheet against two Italian marines, accused of killing to Indian fishermen off Kerala coast in 2012, and would file it after the Supreme Court decides on the issue raised by the Italian government.
According to the NIA, the apex court is scheduled to hear the plea of Italian government challenging invocation of anti-terrorism law against its two marines on February 3.
"We are ready with the charge sheet and we will file it. The Supreme Court will decide (on the plea) first," the NIA prosecutor told Additional Sessions Judge Dharmesh Sharma.
The counsel appearing for marines Massimiliano Latorre and Salvatore Girone argued that the proceedings in the case should go ahead after the apex court decides on the plea filed by the Italian government.
The court, which was scheduled to hear the arguments on the NIA's plea requesting it to take "appropriate steps" to secure the custody of the marines, fixed the matter for February 25.
"The counsel for the NIA and the accused have apprised this court that the matter concerning the present application and other related issues are subject matter of the petition filed before the Supreme Court... the application is adjourned for hearing on February 25," the judge said.
The court, however, made it clear that in case the charge sheet is filed, it will proceed with the matter.
A Supreme Court bench headed by Justice B S Chauhan is hearing the plea filed by Ambassador of Italy Daniele Mancini and the two marines challenging invoking of anti-terrorism law Suppression of Unlawful Acts against Safety of Maritime Navigation And Fixed Platforms on Continental Shelf Act.
It has also sought direction to the Centre and the NIA to expedite the proceedings in the case or discharge the marines.
During the hearing today, the counsel appearing for both the accused said the Attorney General had told the apex court that the Centre is trying to resolve all disputes with the
Italian government on the issue of invoking anti-terrorism law against the marines.
"The AG has assured the (apex) court that they are trying to resolve it," the defence counsel said. The Supreme Court, on January 18 last year, had held that the marines should be tried by the Centre and had turned down the plea of the Italian government that Indian courts had no jurisdiction in the case.
The apex court had allowed NIA to probe the case against the marines and asked the special court to conduct the trial on a day-to-day basis after the charge sheet is filed.
The case pertains to the killing of two Indian fishermen allegedly by Latorre and Girone on board 'Enrica Lexie'.
Fearing a pirate attack, the two officers had allegedly fired at the fishermen's vessel off Kerala coast on February 15, 2012, killing two of them.
The marines were arrested on February 19, 2012.