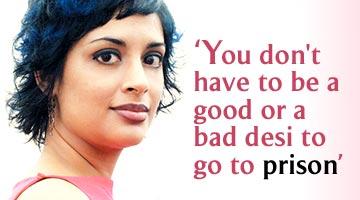 Can you be arrested for wearing a thong if you are ugly? Can you be prosecuted for unknowingly renting a house to drug dealers? How much pot can warrant a felony conviction in New York and in Texas? How many drinks can get you arrested? When can you claim entrapment?
In Neeraja Viswanathan's The Street Law Handbook: Surviving Sex, Drugs and Petty Crime (Bloomsbury) you can find answers to the questions and more.
Viswanathan, 30, perhaps the only desi woman in America with a streak of blue hair, says she has sought to crack the tough nut of small-time law enforcement and lays the rules bare in her new book. She offers answers for questions like: What merits a strip search? Exactly how much is an officer allowed to inspect? Can you have sex in a cab?
"If you have ever felt the desire to act impulsively but were not sure of the consequences, this is the book to consult," Viswanathan, who gave up a high paying corporate law job three years ago to be a full-time writer and teacher, says.
She believes combining straightforward legal information, true tales of small-time crimes and handy legal definitions that will, if nothing else, make anyone a smarter Law & Order viewer.
Viswanathan spoke to Senior Editor Arthur J Pais recently.
What is a good desi girl doing discussing thongs and sex in taxis in her book?
Sex and drugs are part of the world. I do not see why desi people should pretend they do not exist, or are 'Western' issues. I know plenty of good desis who engage in both. There are a lot of people out there, young people, who break the law without realising it.
The likelihood of anyone being arrested for jaywalking could be very small but we ought to know a police officer could stop us and he has every right to do so. Possession of marijuana may not be a big thing in New York because the police have other priorities. But in Texas, it could send you to prison for many years. There was something else bothering me when I started working on the book.
What was it?
Many of us worry about our health. We try to read on health, eat good food and take care of our bodies. But when it comes to the law, we don't worry much. Some do not worry at all. That was one of the reasons I wrote the book. It is meant for anyone but will mean a lot to desis.
You don't have to be a good or a bad desi to go to prison. You think you are watching a porno film in a theatre and there is nothing wrong if you expose a bit. After all, it is an x-rated movie theatre but there could be a law that sends you to prison for many months.
How did the idea for this book come about?
Many friends had questions when they found out I was a lawyer. There was a need for a practical book about the laws that non-career criminals break when trying to have a good time.
How did you research for it?
Lots and lots of interviews, some with people on the wrong side of the law. Computer research into cases and research on legal databases for the law.
Does this book have practical value?
If you want it to, yes. The idea that good people cannot go to jail is not true. You think you have done something silly but you may not know it is illegal. If a police officer went after you, you might end up spending a few years in a prison and your career could be ruined. The book could help the reader make an informed decision.
It is not a book meant to teach anyone to break the law. It does not work as a substitute to a good lawyer. The book can be read for entertainment value but all the legal information is accurate.
Will you give us an entertaining story from the book?
There are so many it is hard to choose one. There is the rather famous case of a New York radio morning show that was holding a contest to see who could have sex in the craziest location. A couple tried to do it in St Patrick's Cathedral, and the show tried to broadcast it. Everyone, including the show's producer, was arrested and the show was cancelled.
Your bio says you quit a corporate lawyer's life to have 'an actual life.' What is an actual life?
An actual life is one where I have time for my family, friends, hobbies and to enjoy life, rather than be cooped up in an office for days and weeks on end.
What did you hate most about being a lawyer?
I discovered not long ago I don't like the idea of working for other people. Then I decided I did not like my work, especially defending corporate clients. I had taken up the job at a large New York firm thinking I would be there for a couple of years. I hated everything about the job except the money. But for my peace of my mind, I was prepared to give up much of that money. I did it.
Meanwhile I had started writing, and I discovered though I did not work for the big firms, I could still write on law (like this book). I could write magazine and newspaper articles. I have an idea of teaching high school children about law. There are a lot of good lawyers out there doing their kind of thing and they like it. But I was burning out as a corporate lawyer. I did not want to be overwhelmed by it so that by the time I was 30 I would have had lost the appetite for the things I liked.
Why did you go to law school?
I studied English literature and film at New York University. People would tell me I wrote well, and I knew it too. Some people thought I could shine as a lawyer because I wrote well and I argued well. I was tempted.
Did you think of joining a non-profit organization or being a citizens' lawyer?
Yes, I did but the desire to write took over.
Tell us about your present life.
I like everything about it except the lack of money (chuckles). I believe though I did very well as a lawyer, I was basically a lazy lawyer compared to what I am doing now. But I am not sucked into the system. I don't spend hours looking at dozens of boxes filled with information. I am far more productive and hardworking than at any time in my career. I am enjoying it a lot.
Apart from having much less money, what else did you give up (when you quit practicing law) that you miss?
I miss the structure and job security, but not much else.
Is it important for lawyers to have a sense of humour?
It's important for everyone to have a sense of humour!
Do you have a lawyer joke?
I've only heard one lawyer joke: What do you call a hundred lawyers at the bottom of the ocean? A good start.
If you were to start all over again, would you go to law school?
I think so. I like discussing and studying law. I did not like the practice.
Do you watch Court TV?
The only legal show I watch is Law & Order. I have no interest in the minutiae of the Michael Jackson trial testimony or similar trials.
Do you read legal thrillers?
No. I find them unrealistic and shallow.
What is your favourite movie set in a court?
I liked A Few Good Men. I also liked The Verdict, To Kill a Mocking Bird and Anatomy of a Murder. All excellent movies.
Why did you decide to turn your hair blue?
Several years ago I was in London when I saw a young woman going to work. She had green hair. Till then I thought if you coloured your hair you had to be a punk rocker. I don't really know why I chose blue colour. But I love it.
What is your next book about?
The Devil Inside Her: The Truth Behind History's Wicked Women. It is an anthology of biographies of women who many consider infamous (including Mata Hari, Lizzie Borden, Phoolan Devi). It delves into whether the women deserved their reputation or not.
Top Image: Uday Kuckian