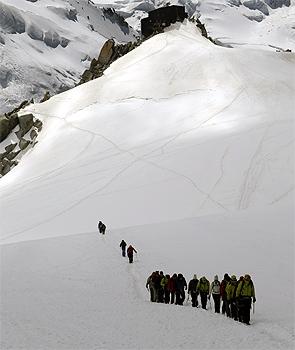 A French climber recently found a box full of precious stones while trekking at Mont Blanc, the highest mountain range in the European Union, with jewellery worth over Rs 2 crore.
The metal box had nearly 100 pieces of emeralds, rubies and sapphires packed into sachets that were marked 'made in India'.
The box is believed to have belonged to a passenger of one of the two ill-fated Air India flights that crashed at the spot, in 1950 and in 1966.
Incidentally, a bag of surprisingly well-preserved Indian diplomatic mail was found by two climbers at Mont Blanc last year.
The bag, marked 'ministry of external affairs', was believed to have belonged to someone on board the Boeing 707 that had crashed at the site in January 1966.
As many as 11 crew members and 106 passengers had been killed in the crash.
Since one of the passengers killed in the crash was Homi Jehangir Bhaba, considered the father of India's nuclear programme, many conspiracy theories had surfaced after the mishap.
The real reason behind the crash was never ascertained.
An Air India propeller plane had crashed in the same region 16 years earlier -- in 1950 -- killing 48 passengers and crew members.
The French climber, who remains unnamed, carried the box on his way down from the summit and handed it over to the local police.
"You can say the climber who made this find is someone very honest," the local police chief was quoted as saying by the Guardian.
The daily also described Mont Blanc as "one of the world's most beautiful mountains, with a deadly history of dangerous storms and fatal avalanches."
The French authorities will now contact their Indian counterparts and try to return the jewel box to its rightful owner.
If Indian authorities fail to find the owner of the treasure, the jewels can be given back to the climber who found them, said the Guardian.
Image: Trekkers at Mon Blanc ' Photograph: Reuters