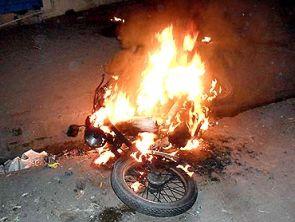 Indian Mujahideen is behind three of the four major blasts in the country this year and is getting motivation and strength from inimical forces in Pakistan, Home Minister Sushilkumar Shinde said on Thursday.
The IM cadre carried out twin blasts in Hyderabad and the series of blasts at Bodhgaya and Patna, he told a three-day Conference of Directors General of Police, organised by the Intelligence Bureau.
"Indian Mujahiddeen, which draws its motivation and sustenance from inimical forces operating from across the western border, has been responsible for three out of four major terrorist attacks in our hinterland this year," Shinde said.
The home minister said the blast in Bangalore was the handiwork of some misguided fundamentalist youth and remnants of Al-Ummah.
Lauding the work of security agencies, Shinde mentioned the arrest of alleged IM mastermind Yasin Bhatkal and Abdul Karim, also known as Tunda, who was also behind a number of bomb blasts in the country.
Terming the arrests as "major breakthroughs", he said it is important that the leads emanating from the investigations are vigorously pursued to apprehend all those associated with this network and stressed the need to be constantly on alert and act in a cohesive manner to deal with these challenges.
Shinde said the scope of Multi-Agency Centre is now being extended to more than 450 districts across the country.
"I believe there is a dire need for upward flow of intelligence into MAC for dissemination to stakeholders, which can be achieved by upgrading the capability of Special Branches of state police. This is only possible if states upgrade their Special Branches for which Government of India is prepared to extend all possible help," he said.
On recent communal violence, Shinde said the triggering factors for such incidents were trivial in nature and could have been nipped in the bud by effective, prompt and unbiased administrative action.
"It is essential for all district administrations to put in place an early warning system for immediate detection of communal issues. For this, local administrations should maintain constant engagement with all communities, particularly in disturbance-prone areas," he said.
Patting the back of paramilitary and police forces for conducting peaceful elections in Chhattisgarh, a hotbed of Naxals, Shinde said high voter turnout has sent the right message to the Naxalites that common people of the area have reposed faith in the country's democratic polity.
"There has also been a drop in the casualty figure of security forces from 111 last year to 97 this year. On the other hand, the number of Naxals killed has gone up to 97 from 71 last year for the same period," he said.
The home minister said central and state security forces have achieved notable successes against Naxals in restricting their areas of influence, denying them fresh recruits and eroding their top leadership.
"The Union government remains committed to root out this menace. It will continue to help the affected states by placing at their disposal CAPFs (central paramilitary forces) and support various security as well as development-related interventions in Naxal areas...."
"It is also imperative to recruit personnel for special forces from local marginalised sections of the society," Shinde said.
On Jammu and Kashmir, Shinde said huge voter turnout in the recent panchayat elections bears adequate testimony to the fact that support for the militants is getting eroded.
"Peace in the last few years has paid huge dividends in terms of increased economic activities and record arrival of domestic and international tourists....Various employment generation schemes such as Udaan and Himayat are also being vigorously pursued," he said.