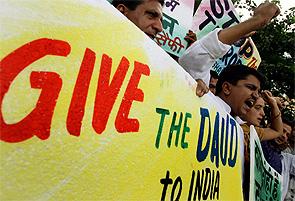 Following the arrest of terror operatives Abdul Karim Tunda and Yasin Bhatkal, Home Minister Sushilkumar Shinde had grandly proclaimed that Dawood Ibrahim, India's most wanted man, will be the next terrorist to be arrested.
But there are far too many stumbling blocks in the long path that leads to the arrest of Dawood.
Dawood is a much bigger catch than Tunda and Bhatkal, as he funds 60 per cent of the terror operations sponsored by Pakistan.
A month ago, security agencies in India and Pakistan exchanged notes about a possible handover of Dawood. Though it is an open secret that Dawood continues to live in Pakistan under the patronage of the Inter Services Intelligence, Islamabad always denies this publicly.
An Intelligence Bureau official told Rediff.com that the ISI will use these developments to pressurise Dawood who, they believe, will agree to any deal as long as it serves his business interests.
A list of demands purportedly made by Dawood, some of them downright laughable, was presented to Indian security agencies. The underworld don reportedly demanded that his business interests should remain untouched in spite of his arrest and he should not be tried for the 1993 serial blasts in Mumbai.
An official of the Intelligence Bureau points out, accurately so, that Dawood's arrest becomes meaningless if Indian authorities agree to such ridiculous demands.
Interestingly, Dawood seems to be completely at the mercy of ISI, which is not averse to using its prized possession as its bargaining chip.
Each time the ISI faces pressure to hand over Dawood, it demands a higher amount of money from the underworld don in exchange of providing him safe refuge.
The agency, which used to get 20 per cent of the profits made by Dawood's shady business, today wants 50 per cent stake in it.
Dawood, on his part, realises that parting with 50 per cent of his profits is more prudent than losing the patronage of the ISI, which will not even blink an eye before turning him over to Indian agencies.
Dawood, therefore, remains a profitable venture for the ISI.
His extradition, if it ever happens, poses bigger problems.
Pakistan will never acknowledge that it has been helping Dawood hide for so many years. So the extradition will have to happen from a neutral country.
Some senior politicians from Maharashtra, who have enjoyed a lucrative relationship with Dawood, will also fight tooth and nail against his extradition.