Saurav Ghosal's dream run in the World Squash Championship came to an end when he suffered a straight-game defeat against defending champion and world number one Ramy Ashour from Egypt in their quarter-final in Manchester.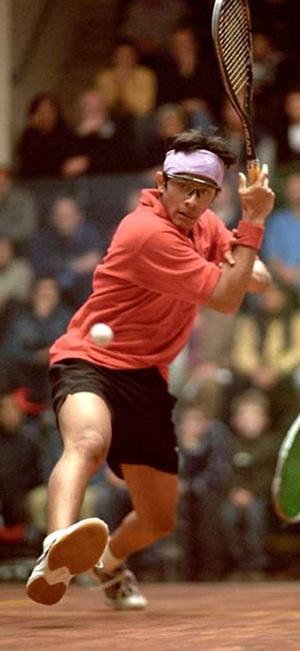 Ghosal, who made history by becoming the first Indian ever to reach the world championship last-eight stage, put up a brave fight before running out of steam against the top seed from Cairo, losing 9-11, 5-11, 9-11 in a 48-minute contest at Manchester Central on Thursday.
It was Ashour's fourth successive quarter-final berth in the championship, which he won last year and in 2008.
Ghosal, who went into the match without a win against the Egyptian in the last four meetings, made an impressive start as he led 8-4 and 9-6 in the first game.
But the 26-year-old, later described by Ghosal as "the most original squash player I have ever seen", came up with a series of scintillating shots to recover from the deficit and take the game.
Ashour raced to a 9-1 lead before taking game two. It was nip and tuck throughout the third until nine-all. After a long rally, Ashour played a deft backhand volley into the nick, then clinched the match after a further lengthy exchange which concluded when Ghosal put the ball into the tin.
Ashour later said that he had a treatment in the morning for a "niggle" in his leg.
"I was very happy with the win," Ashour said after his victory.
"But it's not just the win, it's the story behind the win!" He continued by thanking a host of people enabled him to achieve his victory -- adding "and the venue here is amazing".
When talking about his opponent later, Ghosal said: "Ramy can produce performances right now that nobody can top. I feel privileged to have played in his era - what we have in Ramy is something very special.
"I think I played pretty well tonight in the first and third games -- I think I handled myself OK. If I'd won the first game, it could have made a big difference.
"I'm happy with my progress," responded Ghosal when asked how he felt about his Indian breakthrough in the event. "But what I really want to do is to win matches like that today!"
Image: Saurav Ghosal