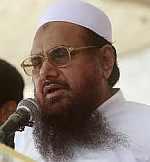 India on Thursday said it is important to bring to justice the Mumbai terror attacks perpetrators in Pakistan, including Lashkar-e-Tayiba founder Hafiz Saeed, not only to bring a closure to Indians but also to prevent yet another attack.
Making it clear that India will not give up pursuing Pakistan on the issue of the JuD chief, External Affairs Minister Salman Khurshid said giving up would be unfair to Indians and the government itself and stressed the need for a "logical conclusion" in the matter.
"We are not giving up and we haven't given up. It would be unfair on many people in the country and on ourselves if we did give up," Khurshid told
NDTV
.
He was asked if India had reached a dead-end with Pakistan vis-a-vis the JuD chief, one of the masterminds of the Mumbai attacks who continues to roam freely there despite a 1$0 million bounty on him by the United States.
He said there are some "intractable" issues on which one can't expect immediate relief, response or reaction as one wishes.
"But you have to continue. You have to continue your struggle, continue to be striving. We will continue to do so because it is not (only) about something that has happened in the past, which is extremely hurtful and tragic but it is also, in a sense, unraveling systems that can be put into operation again against us in the future," he said.
The minister added "unless we know the entire story and we are able to make people accountable for what they did, there would remain a big question mark about our security (for future)...I think it is important, in both dimension, that we get what we believe is logical conclusion."
Asked about Pakistani Taliban threats to target Indians "anywhere" over the hanging of Ajmal Kasab, one of Mumbai terror attackers, he said one cannot take chances.
"Any form of terrorism should not cause any undue anxiety. But you have to be careful. You can't be dismissive. We have had very unpleasant experiences in the past," he said.
Khurshid also added the government will keep reviewing the security situation for the Indian embassy in Islamabad in the coming weeks and months and would request Pakistan government for additional security as and when necessary.
He, however, made it clear that the security of its mission was the responsibility of the Pakistan government.