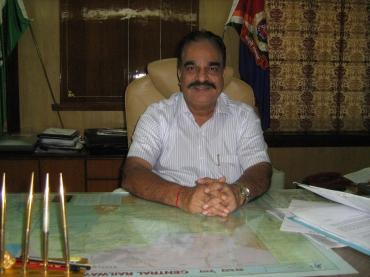 The horrific assualt on CST on November 26, 2008 has forced RPF personnel to be prepared for known and unknown threats, Inspector General of Police and Chief Security Commissioner, Central Railway, Anil Sharma tells Rediff.com's A Ganesh Nadar
"We have our own commandoes. They are stationed here 24 hours a day throughout the year. They are our SWAT team. The last time this station was attacked, we were not prepared as something like that had never happened before. Now we know that our commandos can deal with any eventuality and neutralise the threat".
The Railway Police Force always had commandos. But they were being used for other duties elsewhere. We did not see any need for them to be here. After the 26/11 attack, we knew they were needed here and one unit was based here.
Since 26/11, security arrangements have been improved on many levels. All the gates leading to the Chhatrapati Shivaji Terminus have metal detectors. There are baggage scanners too. It is not humanly possible to scan every piece of baggage that comes in, but we scan as many as possible.
The fear that there is a scanner is enough to keep most mischief mongers away. The threat of exposure is perpetually present. More CCTV cameras have been installed and they are checked every day to make sure they are functioning properly.
The CCTV cameras are monitored 24 hours a day and any mischief can be detected almost immediately. We are prepared for known threats. If something new happens, we will have to deal with it accordingly.
Our intelligence wing is also on the ball. This is not only at CST station but also in its surroundings and in the city. We cooperate with the city police and other intelligence gathering wings to share and coordinate and act on any threat perception.
The fact that CST was attacked four years ago has made us more vigilant. We will not be caught in the same situation. You can be assured that we are doing our best and we will do our best to keep our passengers safe at all times.
Lately, we have upgraded security arrangements at six important stations of Central Railway. The same has been done for Western Railway".
Image: Anil Sharma | Photograph: A Ganesh Nadar