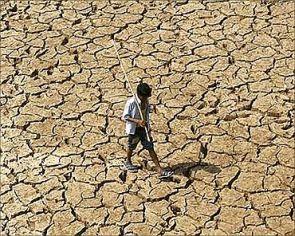 Drought hit Bihar plans to increase the number of days of work from 100 to 150 under the rural job scheme to check migration of the poorest of poor in search of livelihood by providing employment opportunity locally.
Last week the Bihar government declared thirty-three of the 38 districts drought hit due to poor rainfall this monsoon season. According to the state disaster management department, Bihar recorded an overall deficit of more than 25 per cent rainfall.

Bihar Chief Secretary A K Sinha said that government is seriously considering to increase number of days of work under the Mahatma Gandhi National Rural Employment Guarantee Act.

He said that state government has sent the proposal to the central rural development ministry for its approval.
MNREGA has guaranteed wage employment for 100 days to the poor in rural areas.

Reports have said that large number of people, particularly poor landless labourers, have been migrating in search of job outside state.

Vayasji, the principal secretary of the disaster management department said paddy plantation was badly affected in these districts.

According to an agriculture department report, Bihar received 668.6 mm rain against the average of 892.2 mm during the June 1 to September 11 period. It resulted in a lower water table in Aurangabad, Nawada and Nalanda districts.

He said that though 88 percent of paddy plantation target had been met, paddy saplings that had been transplanted were dying in absence of adequate rainfall.

Bihar Chief Minister Nitish Kumar has already demanded central assistance of Rs 12,000 crore to tide over the drought in the state.

Due to deficit of rainfall, the Bihar government had declared 28 districts drought hit in 2010 and 26 districts drought hit in 2009.