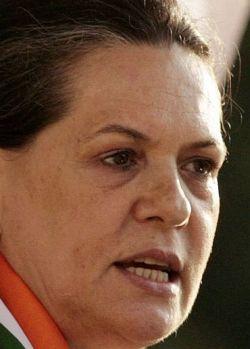 On a day Narendra Modi attacked the United Progressive Alliance government for its "mis-governance", Congress chief Sonia Gandhi hit back accusing the Bharatiya Janata Party of hatching conspiracies before elections and misleading people in its hunger for power.
Modi, addressing an audience in the United States through video conference, claimed that the UPA was "running away" from giving its performance report of nine years, but Gandhi said her government had empowered people through various measures like Right To Information, food security and land acquisition while the BJP had nothing to show.
"UPA government empowered people with Right to Information, Right to Education, MGNREGA, and recently gave food security to people and also introduced new land acquisition act in the interest of farmers," she said.
"BJP, on the other hand, misleads people and points fingers at the works of Congress governments. Why did they not do such work...who has stopped them from taking such decisions and empowering people?", she asked.
"They are just concerned about power and hatch conspiracies before elections. You all need to remain alert from them because they mislead people," the UPA chairperson said at a public meeting in Rupaheli, a remote area of Bhilwara district of Rajasthan.
After unveiling plaques for foundation stone of a Mainline Electric Multiple Unit coach factory and drinking water project, Gandhi heaped praise on Manmohan Singh government, saying it has started a new era of empowering people.
Earlier, after the stone laying ceremony of a Rs37,230-crore refinery and petrochemical complex at Pachpadara in Barmer district, the Congress chief stressed that communal peace and harmony has to be maintained for the country's overall development.
She said the country's secular ethos require that all communities move forward shoulder-to-shoulder on the path of development
"When your own government ensures an environment of peace and harmony, there is development in every direction, then only there is prosperity.
"Every section of society should move forward together... shoulder-to-shoulder. This is India's secular culture.... and foundation of governance," Gandhi said.
Rajasthan would be the first state in the country to use its own crude oil being explored in Barmer for its oil refinery which would provide 25000 jobs, she said, adding it was a major step for new industries in the state.
On UPA's performance, Gandhi said the central government has brought a "revolution" for every section including the poor and the backwards.
Under MNREGA, the UPA government ensured job for 100 days to every person in villages and brought many new Acts including RTI to curb corruption and Right to Education for children.
For women empowerment there are self-help groups and to deal with hunger, the government brought in the Food Security Act under which 80 crore people will get foodgrains at cheaper rates, she said in her 10-minute speech.
Corruption in public distribution system would be curbed through the Food Security Act, she said, adding even "Aadhar card" was linked with it.
Land Acquisition Act was passed so that no one could grab farmers' land and they would get due compensation, she said.
"I told Parliament that the government would generate resources for farmers as we always think of their interest and we do not neglect them," she said, adding, "it is our endeavour that the poor, tribals, farmers, women and other vulnerable sections are empowered".
Speaking on the occasion, Union Minister for Petroleum and Natural Gas M Veerappa Moily voiced confidence that the new oil refinery would be a game changer for Rajasthan.
Gandhi also appreciated Ashok Gehlot government for introducing free medical and diagnostic scheme, pension scheme for elders and women among others.
"We believe in inclusive growth and this is the way shown by our leaders. UPA government under the leadership of Prime Minister Manmohan Singh took several initiatives for strengthening women, dalits, students, farmers and others," she said.
Wooing women voters, she said, "It is the Congress party which values contribution of women in growth and development so various decisions have been taken for their benefit. Women were given 50 per cent reservation in Panchayti Raj, laws were made to protect them from domestic violence."
Image: Sonia Gandhi