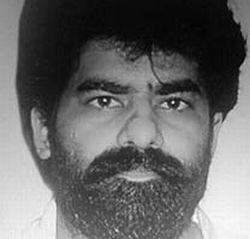 Maharashtra Police plans to announce a cash reward for information on Indian Mujahideen operative Afzal Usmani, who recently fled from court premises.
Various police teams, specially formed to track down Usmani, have fanned out across the country but have been unable to find any clue about his whereabouts so far, a police officer said in Mumbai on Sunday.
A cash reward may be announced for information leading to Usmani's arrest, if he is not traced in the next few days, a police officer said, but did not divulge the amount that would be offered.
Suspecting that Usmani might attempt to cross over to Nepal, police forces of Bihar, Uttarakhand, Uttar Pradesh, Sikkim as well as West Bengal have been alerted and photographs of the terror suspect have been circulated.
Police teams have also been dispatched to Usmani's home state Uttar Pradesh and the neighbouring state of Bihar, the officer said, adding that he had built up a good network in the two states, during his heydays.
Usmani's photographs with his beard and without his beard, his case details, possible places he could be found, his fingerprints, as well as details about his relatives, friends and neighbours, have also been provided to police teams and informants in Aurangabad, Thane, Pune, Vashi in Maharashtra, besides Andhra Pradesh, Karnataka and other neighboring states.
On Friday, 37-year-old Usmani was brought to the Maharashtra Control of Organised Crime Act court along with 22 others from Taloja Central Jail in Navi Mumbai, for a hearing.
Around 2.45 pm, when the court assembled for the hearing, the policemen realised that Usmani was missing.
Assistant sub-inspector Sanjay Deshmukh, who was guarding Usmani, and his immediate superior, assistant police inspector Ram Chopde, were suspended for negligence on the very same day.
According to the police, after Usmani escaped from the court, he met his brother's friend in the city, took about Rs 700 from him and went away.
The Maharashtra ATS has interrogated the person who gave the cash to Usmani, sources said, but remained tightlipped about the outcome of the interrogation.
The police believes that Usmani is lying low, so that he is not tracked by security agencies.
"The dreaded terrorist knows how to hoodwink security personnel to avert arrest. He is lying low right now. Once he becomes active, he will surely be caught," the officer said.
Usmani's brother Faiz died in police custody in 2011 after the crime branch brought him to its Chembur unit for interrogation. His wife, Ruheda, claimed that he was tortured to death, but an inquiry report showed that Faiz died of "heart attack".