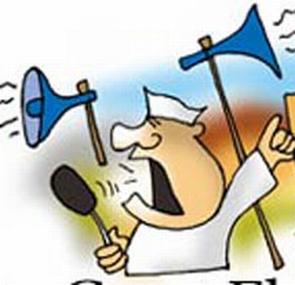 With the political class coming under severe attack for undue interference in the functioning of the bureaucracy, the United Progressive Alliance government has decided to amend the Model Code of Conduct for ministers to include a reference to the need for upholding the impartiality of the civil service.
This particular issue is slated for discussion and clearance at a Union Cabinet meeting on Thursday.
The paragraph, which is will be inserted in the Model Code of Conduct, expects ministers to "uphold the impartiality of civil servants" and urges them against acting in any manner which would be "in conflict with the duties and responsibilities of civil servants."
The government's move is in consonance with the recommendation of the second Administrative Reforms Commission.
The code also specifies that all ministers must disclose their assets, should not accept gifts worth more than Rs 5,000 and their family members should not be employed with any foreign government.
Sources in the UPA revealed that the code was meant to guard against the political patronage often extended to favoured bureaucrats. Civil servants who toe a minister's line are often rewarded with plum postings while those who don't comply with the wishes of their political bosses are punished.
It is anybody's guess whether this provision will make any material difference to the way the political class deals with civil servants.
Although most ministers are not known to respect the Model Code of Conduct, the government is hoping the inclusion of this particular paragraph will have some impact on ministers, who will now have to think twice before interfering with the work of civil servants.
This move comes at a time when the political class is being criticised for misusing the bureaucracy for its own political ends, irrespective of rules and procedures.
It also comes in the backdrop of recent cases from Gujarat, Haryana and Uttar Pradesh, where chief ministers have openly rewarded compliant officers and punished those who fail to fall in line.
Haryana cadre Indian Administrative Service officer Ashok Khemka and Uttar Pradesh cadre officer Durga Shakti Nagpal recently made headlines for being targeted by their respective state governments for taking decisions which did not please their political bosses.
Khemka courted controversy when he cancelled the land allotted to Congress President Sonia Gandhi's son-in-law Robert Vadra.
Nagpal was suspended when she cracked down on the sand mafia in Noida.
The UP government had then claimed that she had been punished because she had ordered the demolition of a wall of a mosque that had been constructed illegally, leading to communal tension in the region.
There are plenty of sincere civil servants who face numerous transfers when they fail to do the bidding of their political bosses. On the other hand, there are numerous instances of pliant officers being rewarded with postings of their choice.
Recent reports from Rajasthan talk about how chief minister-designate Vasundhra Raje had been calling up loyal officers with offers of plum postings well before the election results were declared.
The relationship between politicians and civil servants has been the subject of discussions of several committees and commissions over the years.
But nothing much has come of their recommendations on the introduction of administrative and police reforms.
Taking note of this growing problem, the Supreme Court had recently given a path-breaking verdict, saying civil servants should not act on verbal orders from their political bosses. The apex court had directed Parliament to enact a law to regulate postings, transfers and disciplinary action against bureaucrats.
The court had noted that undue political interference had led to a steady deterioration in bureaucracy and a fixed tenure for government officials will promote professionalism and efficiency.
Illustration: Uttam Ghosh/Rediff.com