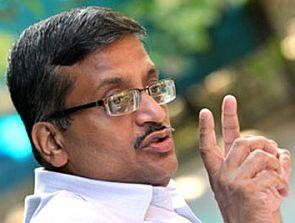 Tightening the noose around whistleblower IAS officer Ashok Khemka, Haryana government is preparing a second charge sheet against him for alleged low sale of wheat seeds during his tenure in Haryana Seed Development Corporation as its managing director from October 15, 2012 to April 4 this year.
Asked to comment on the second charge sheet being prepared, a senior Haryana government official said these are administrative matters, but maintained that it does not believe in targeting or acting out of vindictiveness against any of its officials.
Reacting to the development, Khemka, who had a year back shot into limelight for cancelling the mutation of the land deal between businessman Robert Vadra and real estate major DLF in Gurgaon, said he has not been served any charge sheet and therefore, cannot comment on the matter.
Asked if he had shot off an angry letter to the Chief Secretary P K Chaudhery in this regard, he replied, "That is not correct."
Three weeks back, the Haryana government had decided to charge sheet Khemka, who claims to have been transferred more than 40 times during his career so far, for alleged administrative misconduct in cancelling the mutation of the land deal between businessman Robert Vadra and real estate major DLF in Gurgaon.
The 1991-batch IAS officer has been held liable for alleged administrative misconduct for overstepping jurisdiction in passing orders to cancel the mutation of 3.5 acre land in Gurgaon's Shikohpur village. The land was sold by Vadra to DLF.
When asked if the second charge sheet was being prepared, Chief Minister's Principal Secretary S S Dhillon told reporters in Chandigarh that it was not the question of making any preparations as wherever any discrepancies or deficiencies are found, due procedures are followed and whatever action is deemed fit is taken as per the rules.
Asked when the second charge sheet will be served, Dhillon said only the Chief Secretary could tell that.
Without referring to Khemka's case in particular, Dhillon said that in different government departments wherever any lapse or act of ommission or commission is detected, due procedure of law is followed.
On Khemka's allegation that the Haryana Government has been acting against him with malafide intention, Dhillon said, "It is not the question of targeting or acting out of vindictiveness against any official. Actions are taken based on facts and such things are ongoing matters and actions are taken against various individuals whenever any wrong doing is detected.
"These are purely administrative matters, there is no vindictiveness or any partiality," he said.
Dhillon dismissed media reports that Chief Secretary is said to have had "reservations" over the charge sheet but the former had over-ruled them. "There is no truth in this that there are differences (between Dhillon and Chaudhery)," he said.
In March this year, Haryana Agriculture Minister Paramvir Singh had sought comments from HSDC about the alleged low sale of wheat seeds.
Meanwhile, CBI has decided to register a preliminary enquiry into the alleged wheat seed scam in Haryana after a nearly six-month probe following a complaint by Ashok Khemka.
"For an in-depth probe into the matter, CBI is in process to register the preliminary enquiry within a day or two," CBI Chandigarh unit SP, Vineet Brij Lal said today.
A month before being shunted out of HSDC, the whistleblower IAS officer had written to the CBI and sought filing of a criminal case against officials of two government agencies for their alleged role in a seeds scam and for causing loss to the public exchequer.
In a letter on March 4, Khemka had alleged that National Cooperative Consumers' Federation and National Agricultural Cooperative Marketing Federation officials had supplied seeds at higher rates to HSDC, causing a loss of Rs 5 crore to the state exchequer.
However, officials of both the agencies have maintained that no rules had been bent and due procedures were followed in the supply to the HSDC.