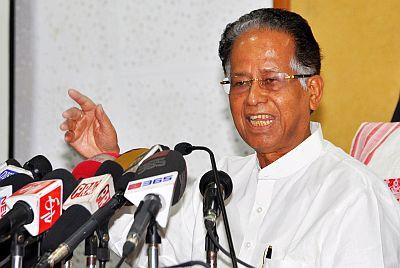 Assam Chief Minister and Congress veteran Tarun Gogoi on Monday sought to downplay the much hyped 'Modi magic' of the Bharatiya Janata Party it saying "Modi magic won't work here in Assam which has its own mystical magic hub Mayong".
Gogoi said so referring to the proposed visit of the Gujarat chief minister to the state sometime in October to gear up the party for next years's Lok Sabha election.

"We have our local Mayong magic to cast off spells of Modi magic," the three-time Assam chief minister said referring in a jocular vein to the ancient cradle of black magic hub of Mayong, in central Assam's Morigaon district.

Gogoi in fact likened welfare schemes of his government and peace initiatives with different militant groups to the magic of Mayong to counter the 'Modi magic'.
Gogoi said 'Modi-magic' would not be able to sway voters in Assam in favour of the BJP as had already been proven in earlier elections when the party had campaigned for the party in this state, without translating into significant electoral success.
"At that time, the BJP was a united house and still they failed. Now they are a divided house over Modi's new role. They will be able to cause no harm to Congress," the Assam chief
minister said.
He termed Modi "a representative of big industrialists" but not common people.
Gogoi predicted that the Congress would win more seats in the state in the next Lok Sabha elections and vowed to snatch the prestigious Guwahati Lok Sabha seat from the incumbent BJP MP Bijoya Chakraborty.
Gogoi also slammed 'BJP's strategy' of dividing people on religious line to win votes.
Image: Tarun Gogoi