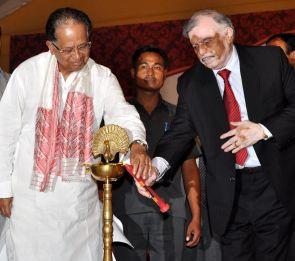 Chief Justice of India P Sathasivam on Saturday urged the judiciary to ensure easy access of the common people to court as well as "early finality of dispensation of justice" to uphold its credibility.
"Both bar and bench have a vital role to ensure that the arrears in court cases and consequent delay in dispensing justice are dealt with as a priority as this has considerably eroded the reputation of the judiciary," the chief justice said while inaugurating the additional building of the Gauhati high court in Guwahati.
Judiciary is the country's most respectable institution and "its credibility must be cherished but in recent times there has been a steady decline which must be arrested so that the high esteem and faith that the common people repose in it is not affected," he said.
"Soon after assuming office, I wrote to all chief justices of state high courts regarding pendency of cases directing them to identify the oldest along with the old cases, particularly those related to women and juveniles and give priority to these cases," Justice Sathasivam said.
An active judiciary with a diligent and intelligent judge may not be enough but sometimes they have to become "activist judges and go beyond and behind the letter of the rule and identify the principle that guides the law," he pointed out.
"Activism is not the exclusive domain of judges of Supreme Court and high court judges but even those in the subordinate courts should practise this when the situation arises," the chief justice said.
Image: CJI Sathasivam with Assam CM Tarun Gogoi inaugurating a function in Guwahati on Saturday
Photograph: Rediff.com