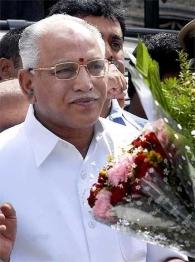 The Congress will not finalise a pre-poll alliance with B S Yeddyurappa's Karnataka Janata Paksha, senior party leader Veerappa Moily said on Monday.
Elated by the Congress' victory in the by-polls held in two Lok Sabha seats in Karnataka, Moily also said the march of Bharatiya Janata Party strongman Narendra Modi is "just in the backburner".
He retorted with a firm "no" when asked whether the Congress would forge a pre-poll alliance with former chief minister Yeddyurappa's KJP.
His statement assumes significance in the wake of reports that the former chief minister may mull a deal with the Congress as he did not receive clear signals from the BJP about his return to the party.
"The march of Modi is just in the backburner," Moily told reporters outside Parliament House, hours after two newly elected Congress members from Karnataka, actress-turned-politician Ramya and D K Suresh, took oath as Members of Parliament.
He said that the election result is a clear message that Modi will not be able to create any impact either in Karnataka or in the rest of the country.
The oil minister said that the election results also indicate that the people of the state have rejected the move by both Janata Dal - Secular and the BJP to have a seat sharing agreement in the upcoming Lok Sabha polls.
"This is also an indication that the people of Karnataka will not tolerate -- they don't want Janata Dal -- Secular, they don't want the BJP. This is the rejection of both these parties," he said.
He had said in a statement on Sunday that the success of the candidates has more significance as the JD-S had obtained the support of the BJP.