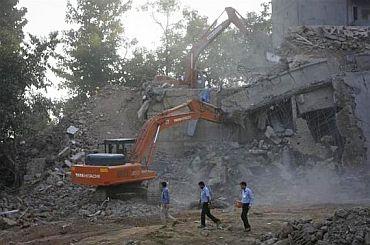 The Goa government on Tuesday announced that three buildings adjacent to the structure that collapsed in Cancona, killing 18 people, would be demolished even as the police continued their search for the property's builders, against whom a first information report has been registered.
Goa Chief Minister Manohar Parrikar said all the authorities had certified that there was no possibility of finding any more survivors in the debris of the collapsed building.
The building caved-in as its design was faulty and the quality of construction was poor, Parrikar said, adding that the structure that collapsed, as well as the ones adjacent to it, had been built on a weak foundation.
The demolition of the adjacent buildings will begin on Wednesday. The machinery required to carry out the demolition has been requisitioned from Pune, the CM added. T
The three buildings in question have been declared as being unsafe structures and would be demolished within a span of four days.
The Goa government had on Monday withdrawn rescue operations at the site of the building collapse in Cancona town, about 70km from Panaji, after two of the adjacent buildings began to tilt precariously.
Police registered an FIR against several persons, including government officers, who had allegedly cleared the controversial five-storey project of 80 flats.
While the police on Monday arrested Deputy Town Planner Prakash Bandodkar, the three directors of the property firm Bharat Realtors and Developers, which was building the structure, are still untraceable. The trio has been identified as Jaideep Saigal, Pradeepsingh Birring and Vishwas Desai.
A case has also been booked against municipal engineer Ajay Desai, who, too, is absconding, police said.
Parrikar had told reporters on Monday that the deputy town planner had sanctioned the building without referring the matter to higher-ups in Panaji, which was mandatory as per the law.
The building, which collapsed on Saturday afternoon, was among three other structures granted the occupancy certificate by local authorities without obtaining the structural stability certificate on December 26 last year.
Meanwhile, the Goa Human Rights Commission has asked the state government chief secretary to submit a report on the building collapse.
The workers killed in the building collapse hailed from Jharkhand, Karnataka, Odisha, Goa, Kerala and Nepal.
Image: 17 people were killed in the mishap