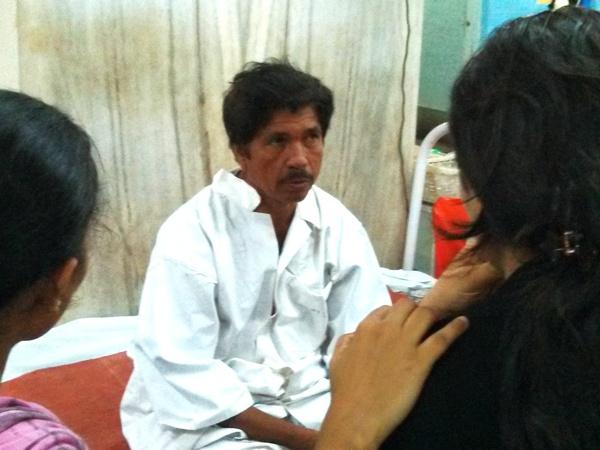 Shankar Bhoir, a security guard at Mumbai's ill-fated Altaf Manzil building recollects his horror
Even as his employers mourn, Shankar Bhoir, 50, sits with a dazed look at the KB Bhabha Hospital in Mumbai's suburban Bandra. Only hours ago, he was sitting with his back to Altaf building where he works as a security guard and was jolted as portions of it came down on him.
It felt like it was raining stones he said and before he knew it, he was under the rubble. His survival instincts kicked in and with whatever little energy he had left, Bhoir tried to crawl out.
"I was half conscious but I knew I had to get out," he said in Marathi. "I kept crawling, or trying to crawl."
It was around 8.15 pm he say.
After what seemed like hours he came out in the open and onlookers dragged him away.
"I heard a rumble; then it came crashing," Bhoir said.
Somewhat miraculously, he had survived the crash with two visible bruises on his legs. He says his back hurts though since it took the worst hit and he finds it difficult to walk.
Bhoir hails from Palghar, near Mumbai though his family and he live in a shanty not very far from the building where he works.
The 50-year-old is contracted with an agency and works as a member of the housekeeping staff at the Maruti Suzuki showroom in the same building during the day and as a security guard in the night.
On a good day he puts in 16 hours of work.
"I came out and remember asking for water," Bhoir recollected, "Since then I have been in and out of consciousness. I have a vague memory of being brought in here but I hadn't known that one of the doctors had called up my family for a while.
Bhoir has two sons -- Sandeep, 28, who works for a private transport company and Rakesh, 26, who works for the Brihanmumbai Electric Supply and Transport.
Sandeep who was at the hospital when we visited him, said that they hadn't even heard of the crash till they received the telephone call. "It was only after (we got the call) that we turned on the television for news and saw the horror."
Understandably, Bhoir is relieved.
"I cannot believe this happened," he said. "And I cannot believe I managed to survive!"