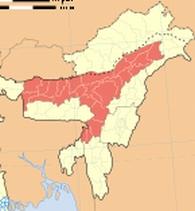 Armed miscreants from Nagaland crossed over a disputed section of the state's border with Assam on Monday and shot dead a farmer, worsening the unresolved boundary row between the two states.
The incident took place in the Naginija area under Mariani police station in Jorhat district of Assam.
Jorhat Deputy Commissioner R C Jain informed that a villager from Assam was killed when miscreants from Nagaland fired upon a group of farmers near Naginijan tea estate.
The deceased has been identified as Sanjay Bhumij, a tea estate labourer. He was working in a field close to the inter-state border when he was hit fatally by a bullet.
The unprovoked firing by the miscreants prompted Assam police personnel, who were on guard in the area, to open fire.
In the wake of the killing of the innocent villager, various organisations including the All Assam Students' Union and the Assam Tea Tribes Students' Association have declared an indefinite blockade of all roads leading to Nagaland through Assam.
Rupjyoti Kurmi, a Congress legislator who represents the Mariani assembly segment, accused the Assam government of failing to protect its citizens from gun-toting miscreants from across the inter-state boundary.
Assam Chief Minister Tarun Gogoi has announced an ex-gratia payment of Rs 5 lakh to the next of kin of Bhumij.
The situation along the Assam-Nagaland boundary under Mariani police station has been tense for the past two weeks, after two labourers from Naginijan tea estate were kidnapped and assaulted by some miscreants from Nagaland on May 23. Local groups in Mariani sub-division hit back by blocking all roads leading to Nagaland through Mariani on May 24.
Passengers of several Nagaland-bound vehicles were injured when miscreants pelted stones on the Assam side.
The boundary dispute between Assam and Nagaland continued to remain unresolved despite a mediation process initiated by the Supreme Court two years ago. The two sides met on May 31 in New Delhi in the latest round of mediation.
The matter is expected to come up for hearing in the apex court in the first week of August.
Assam maintains that over 59,000 hectares of its land along the inter-state boundary has been encroached by Nagaland.
Nagaland denies the allegation and claims that Assan has encroached upon large tracts of its land along the boundary.