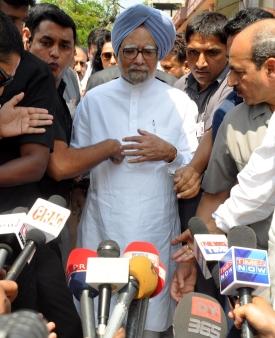 Prime Minister Manmohan Singh on Wednesday filed his nomination papers for his fifth Rajya Sabha term from Assam.
Singh, 80, submitted his papers before Legislative Assembly Secretary G P Das in the assembly premises.
The prime minister's Upper House term expires on June 14. Polls for the two Rajya Sabha seats from Assam will be held on May 30. The notification for the elections was issued on Monday and the last date of filing nominations was May 20.
Prior to filing his nomination, he presided over a meeting of the Congress Legislature Party in the assembly.
Singh was accompanied by Chief Minister Tarun Gogoi, All India Congress Committee general secretary Digvijay Singh, Assam Pradesh Congress President Bhubaneswar Kalita and ministers Pradyut Bordoloi, Rakibul Hussain, Neelmani Sen Deka and Himanta Biswa Sarma.
Journalists were barred from entering the premises and covering the event.
Infuriated at being denied permission to cover the event, the journalists staged a protest.
A section of the protesting journalists commented that they were kept at bay as the state government did not want the PM to face embarrassing questions about the growing dissidence within the ruling Congress in Assam and scams like coal-gate and rail-gate.
Dr Singh later came out of the assembly complex and met the protesting journalists after filing his nomination papers.
Gogoi and Singh admitted that a lack of communication had led to the impasse between journalists and the senior politicians.
The PM told the journalists, "The people of Assam have elected me to the Rajya Sabha where I have represented the state for over 21 years. I will continue my efforts to alleviate poverty and solve other major problems facing Assam."
Dr Singh was first elected to Rajya Sabha from Assam in 1991. He was then re-elected in 1995, 2001 and 2007.
The All Assam Students' Union also staged protests in Guwahati, stating that Dr Singh had lost the right to represent Assam in the Rajya Sabha as he had failed to address the various issues plaguing the state including illegal migration from Bangladesh, perennial floods etc.
Image: Prime Minister Manmohan Singh talks to journalists at the Assam assembly complex