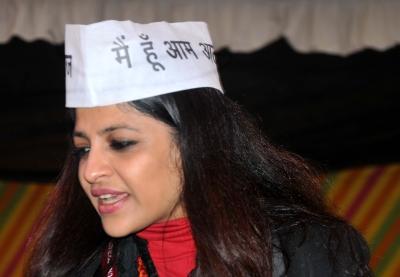 Aam Aadmi Party leader Shazia Ilmi brought the house down at the concluding session of the Jaipur Literature Festival when -- during a debate on democracy --she declared, "In a democracy, everyone has the right to protest, including the chief minister". Sanchari Bhattacharya reports from Jaipur.
Ilmi, who received a deafening round of applause when she took to the stage, stated that her party would not stop its protests till "aam aadmi khaas ho jaye or khaas jo hain woh aam ho jaye (the common man becomes important and a VIP becomes common)."
Admitting that she would have preferred to be by the side of her party men -- who have taken to the streets of Delhi to protest against certain officials of the Delhi police -- Ilmi said she had attended the event as she had already given her word to the organisers.
"Is a citizen's job only to vote every five years? We should change from enraged citizens to engaged citizens. Hum hain maalik, aap hain sevak (the common man is the ruler, the legislators serve them)," she said.
Defending the dharna by Delhi Chief Minister and AAP leader Arvind Kejriwal, Ilmi said, "Protests against an unfair system are an inherent part of democracy. We need to deepen, celebrate and fine-tune democracy. We need to make our democracy more democratic".
The AAP leader, who lost in the recently-held Delhi assembly elections by a wafer-thin margin, was virtually mobbed after the event by a bunch of party supporters who assailed her with requests for photographs and autographs.
Later, while interacting with media personnel, Ilmi asked them, "Should we also be like (former Delhi CM) Sheila Dikshit and say 'how can we control law and order, Delhi police is not under out jurisdiction'."
"During the rape case of the Danish woman, or when Delhi Jal Board employees were caught taking bribes, you (media personnel) come to us and asked us about it. Then what should we say, that 'we are not in charge of Delhi police'?"
The journalist-turned-politician added, "The common man is suffering because no one is listening to them. If the system is not working and the CM is protesting against that, isn't it a good thing?"
She claimed that Kejriwal and his Cabinet had proved that they were actually the 'Aam Aadmi' by taking to the streets of Delhi to protest.
Ilmi dismissed the media's questions about the AAP's strategy in the forthcoming Lok Sabha polls, saying, "It is too early to talk about that."
On the steps taken against party Member of Legislative Assembly Vinod Kumar Binny, who had openly criticised CM Kejriwal, she said, "We have set up a disciplinary committee. We have sent him a notice and asked him to explain his anti-party activities. We expect to hear from him very soon."
Image: Aam Aadmi Party leader Shazia Ilmi at the Jaipur Literature Festival
Photographer: Chandra Mohan Aloria