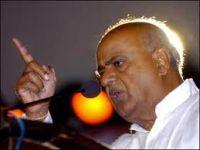 Former Prime Minister H D Deve Gowda has equated the manifesto of his party, the Janata Dal-Secular, for the upcoming Karnataka assembly election to a Bhagwad Gita, Quran and the Bible.
The JD-S, which is hopeful of bettering its position, has focused on two crucial points in its manifesto which was unveiled on Saturday.
Farmers and corruption are the two major aspects of its manifesto and the party says that it would be implemented religiously if voted to power.
While assuring to waive off all farmer loans in the state, the JD-S manifesto also proposes to set up a unit called the Third Eye which would monitor the performance of the government.
This is something that the JD-S proposes to set up to monitor the functioning of the government and give its advise in case it is going wrong somewhere.
Tackling corruption is another issue in the JD-S manifesto and the party promises that it would act soon in such cases. A maximum of three months would be taken to file a chargesheet in any case of corruption the manifesto states.


Salient features of the manifesto includes, online application for mining leases to ensure transparency, a State Urbanisation Commission, a Sea World Amusement Park at Karwar, implementation of Justice Sachar Committee recommendations, English medium from 5th standard in government schools, citizens' council in each department, and annual five per cent 'staff culling policy' in each department.

Meanwhile, apart from the JD-S, B S Yeddyurappa's Karnataka Janatha Party also unveiled its manifesto.
The KJP manifesto promises monthly pension of Rs 500 to all farmers aged above 65, loans at one per cent interest rate to women, waiving off loans up to Rs 1 lakh for farmers, weavers and fishermen, allocation of Rs 2,000 crore and Rs 250 crore for welfare of Muslims and Christians in the state respectively.
Image: JD-S leader H D Deve Gowda