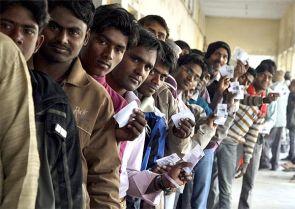 A significant enrolment of young voters in the electoral rolls has resulted in the unusually high voter turnout in the state assembly elections, Chief Election Commissioner V S Sampath has said.
Sampath said as a result of the consistent efforts made by the Election Commission, the registration of youths in the electoral rolls has increased from about 20 per cent to as high as 80 per cent in states like Delhi.
Speaking at the Brookings Institute, an eminent American think-tank which hosted the event in association with the US India Business Council and Confederation of Indian Industry, Sampath said the youth enrolment has been a much neglected segment for long and the EC took note of it three years ago. "Based on census data, we know what should be percentage of youth in electoral roll," he said, adding that an internal study showed only 20 per cent of the youths were getting enrolled in the electoral rolls in the normal course.
Sampath attributed this to the large scale migration of youths in India for purposes like higher education and jobs. As a result of which, he said, enrolment in the electoral rolls is not a priority for the youths. He said the EC through a series of campaigns and multiple measures has successfully tried to encourage them to enroll in the voters list.
"Because of the efforts of the Election Commission this 20 per cent enrolment for the youths increased to almost 80 per cent in places like Delhi, in other places 60 to 70 per cent in that age group. Still we have not reached the 100 per cent," Sampath said.
As such, he attributed this to the high turnout of the voters in the state assembly elections. While in Mizoram, 83.41 percentage of registered voters exercised their right to vote, in Chhattisgarh it was 77 per cent, in Rajasthan it was 75.65 per cent and in Madhya Pradesh it was 72.66 per cent. Delhi registered a high voter turnout of 66.10 per cent, Sampath said.
Also ahead of the elections, he said, in all these states the EC organised a special summery revisions. In states like Madhya Pradesh, millions and millions of people were enrolled in one year i.e those who were apathetic to enrolment before. "Our experience is that a voter who enrolls in an election year, he/she invariably votes.
Because they are enthusiastic, they enrolled," he said, adding in cities like Delhi, the EC also took special effort to enroll the large tenant community. Replying to a query, he said the EC tried to explore the possibility of early voting as is the case in the US. However, Indian electoral laws and practices does not make it a feasible option. "If you want to have early voting, by the time of early voting campaigning must stop. That is not something which is being contemplated in our law. It (campaigning) has to be over and thereafter there has to be some period for the voters to think," he argued.
Sampath said that early voting is a good practice in many countries and useful for people who can't be in their constituency on the day of the polling.