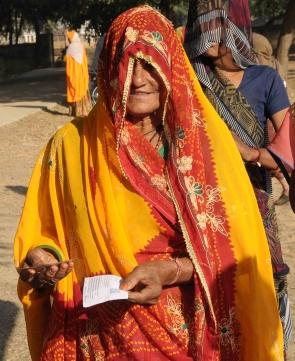 Amid stray violence, Rajasthan on Sunday witnessed a record turnout of 74.38 per cent in the assembly election, which will decide the fate of Chief Minister Ashok Gehlot and his bete noire Bharatiya Janata Party's Vasundhra Raje among others.
The turnout was 74.38 per cent, the highest-ever in the desert state, Election Commission officials said.
In 2003 assembly election, the turnout was 68.18 per cent and in 2008, it was 66.49 per cent, they said.
The fate of 2,087 candidates, including Gehlot and Raje, was sealed in the Electronic Voting Machines after the exercise, which saw police firing in the air at a few places to restore calm.
A pick up van was also set ablaze and reports of attempt to capture a booth and malfunctioning of EVMs were reported from some places, officials said.
The voting was held for 199 out of 200 assembly seats up for grabs. Polling was adjourned in the Churu constituency to December 13 following the death of Bahujan Samaj Party candidate Jagdish Meghwal.
The police fired in the air to disperse a group of persons trying to disturb polling at Saleempur in Dausa district, at Rein in Alwar and near Khumber-Deeg in Bharatpur, Additional Dierctor General of Police (Law and Order) Navdeep Singh told PTI. No one was injured and the polling went on smoothly at these places, he said.
"No untoward incident was reported within 200 metres of polling booths in the entire state," the ADGP said.
A pick up van was set ablaze by some persons at Fatehpur in Sikar district, he said.
Some anti-socials tried to capture a booth in Rupwas area in Bharatpur district leading to suspension of the polling briefly. "After a brief interruption, the polling resumed," Bharatpur Collector Neeraj K Pawan said.
Gehlot, his wife, son and daughter-in-law cast votes at Vardhman Jain upper primary school in Mahamandir area in Jodhpur Gehlot is trying his luck from his home turf Sardarpura in the Jodhpur district and chief ministerial aspirant Raje from the Jhalarapatan constituency in Jhalawar district.
No votes were cast in a polling booth in the Dug assembly seat in Jhalawar district as the electorate boycotted the democratic exercise.
The Congress and the BJP fielded 200 candidates each and the BSP 195. As many as 758 Independents also threw their hats into the ring
Some 50 EVMs were found faulty and were replaced, the officials said. According to tentative figures, Jaisalmer recorded a turnout of 85.52 per cent, Hanumangarh 85.40, Sriganganagar 84.06, Chittorgarh 80.77, Pratapgarh 78.08, Dholpur 78.06, Churu 77.53, Bhilwara 76.69, Bundi and Kota 75 each, Ajmer 74.46, Dausa and Rajsamand 74 each and Jaipur 68.50.
Counting of votes will take place on December 8.

Image: Woman stand in queue to register their vote in Rajasthan

Photograph: Chandra Mohan Aloria