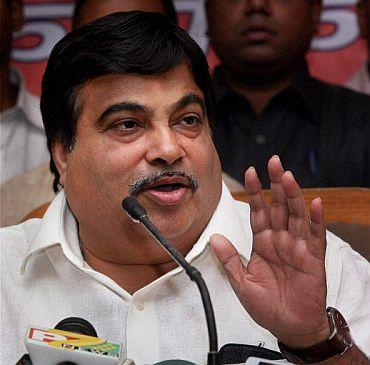 The Bharatiya Janata Party on Monday stuck to its position of not seeking to stake claim to form the government even though it emerged the single largest party in the assembly polls, saying it did not have the mandate to provide a stable dispensation.
"By natural democratic process if we get majority we will think about it. Otherwise we will prefer to sit in opposition," former BJP president and party's Delhi election in-charge Nitin Gadkari said after a series of meetings he held with senior leaders.
The party went into a huddle today to discuss future course of action. "We have no numbers. We do not want to purchase any MLAs," Gadkari said.
Sources said Gadkari discussed the issue with Narendra Modi through teleconferencing and the common view in the party was that it should not resort to taking any unethical move.
"Obviously we do not have the numbers. We have 32 MLAs while we need support of 36 MLAs. Even if one of the unattached members support us or there is some repolarisation, the options are limited," senior BJP leader Arun Jaitley said.
BJP's chief ministerial candidate Harsh Vardhan also echoed the same view saying the party will not form the government as people of Delhi did not give such a mandate.
"The people of Delhi made us the single largest party. But they did not give us support to form the government. We do not believe in politics of horse trading. The ball is not in our court," he said, indicating that BJP may prefer to face fresh election if the stalemate continued.
The BJP has called a meeting of all newly elected MLAs on Tuesday which will be attended by Gadkari, party's Delhi unit president Vijay Goel and senior leader Thawarchand.
The AAP has also maintained that it will not stake claim to form government and will play the role of a constructive opposition.