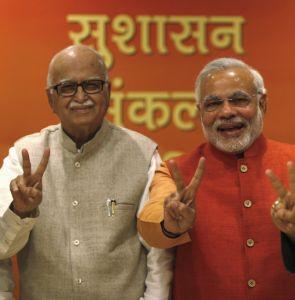 A buoyant Bharatiya Janata Party on Sunday began the groundwork for government formation, with party president Rajnath Singh appointing observers to be sent to the four states where the party has emerged victorious.
After a meeting of its Parliamentary Board, Singh said, "Let me make it clear that we will form governments in all the four states and we will have our chief ministers there."
The top leaders, including Gujarat Chief Minister Narendra Modi, decided to send observers to Delhi, Rajasthan, Madhya Pradesh and Chhattisgarh to complete the formalities of staking claim.
"Sushma Swaraj, Rajiv Pratap Rudy and Ananth Kumar will go as observers to Madhya Pradesh, Venkaiah Naidu, J P Nadda and Dharmendra Pradhan to Chhattisgarh, Arun Jaitley, Amit Shah and Kaptan Singh Solanki to Rajasthan and Nitin Gadkari and Thawar Chand Gehlot to Delhi," Singh said.
However, BJP is short of majority in Delhi and Chhattisgarh till reports came in.
Singh said BJP benefitted from the popularity of Narendra Modi, the party's prime ministerial candidate.
Praising Madhya Pradesh Chief Minister Shivraj Singh Chouhan and Chhattisgarh CM Raman Singh, Rajnath said, "Our performance in these states, the good governance by the governments in these states has been accepted by the people."
He said there was no anti-incumbency in MP and Chhattisgarh and BJP benefitted from pro-incumbency.
"The results of assembly polls clearly indicate that the people have rejected the Congress' model for governance. The BJP's impressive performance in Madhya Pradesh and Ch'garh gives a clear thumbs up to our commitment towards good governance. BJP has won 68 per cent seats in four states," Singh said.
Rajnath Singh parried questions on the vote percentage BJP got in the four states.
BJP may be sending observers to complete the formalities in the four states, but the choice for the chief minister's post is already clear.
Singh even announced that Shivraj Singh Chouhan will once again head the BJP government in Madhya Pradesh.
The BJP president, however, denied that the party had taken a call on making Harsh Vardhan its CM candidate quite late.
"Every party takes decisions when the time is right. This is a part of the strategy of any party," he said.
He credited BJP's projected chief ministerial candidates in the four states for the good performance of the party in the polls.
Expressing his happiness over the poll results in Rajasthan, Singh said Congress used to cite its rule in the state as a development model but has lost badly. "This shows people see BJP as the party which can deliver on good governance," he added.
Image: Bharatiya Janata Party leader Lal Krishna Advani, Gujarat Chief Minister Narendra Modi, show victory signs before their meeting in New Delhi; Photograph: Ahmad Masood/Reuters