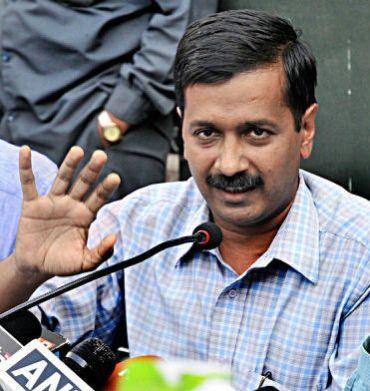 A day after the gang-rape of a Danish woman in New Delhi, the Delhi government on Thursday accused the Delhi police of being "highly compromised" and failing to ensure the safety of people of the national capital.
"Delhi police are highly compromised. If accountability of the Delhi police is not fixed, then crime and rape incidents will not go down,"
Chief Minister Arvind Kejriwal told media persons and warned the Delhi police Commissioner that his government and people of Delhi will not remain mute spectators in case police functioning does not improve.
"After a rape takes place, then we demand immediate arrest of the culprits. But that is not sufficient. Why would rapes happen in the first place"? Kejriwal said.
Citing two specific instances of "non-cooperation" by the police in which two Delhi government ministers sought action, the chief minister said his government sought an immediate suspension of two SHOs and two ACPs allegedly involved.
"We demand as well as give ultimatum to Delhi police to suspend the erring SHOs of Sagarpur and Malviya Nagar police station. Sagarpur police did not take action against the family who burnt their daughter-in-law even after Women and Child Development Minister Rakhi Birla while Malviya Nagar police plainly refused to take action in the alleged sex and drug trafficking racket being run from Khirki village despite the law minister's tip-off," Kejriwal said told a press conference here.
He also demanded the suspension of the two ACPs who had come to the spot and allegedly did not act. Reacting to the Delhi police's statements about the ministers interfering in their work, Kejriwal said "how can Delhi police say that state ministers are interfering in their work? The police are just refusing to act."
Kejriwal's reaction was in response to letters written to him by Bharti and Rakhi Birla, both of whom faced severe resistance from the police on Wednesday night, when they brought two separate incidents to the notice of concerned police officials at two different places.
Kejriwal said he will meet the Lt Governor and raise the issue with him. "I am meeting Lieutenant Governor Najeeb Jung on Friday morning, where Delhi police commissioner is also coming. I am going to tell him in strong words that citizens of Delhi will not be a mute spectator," said Kejriwal.