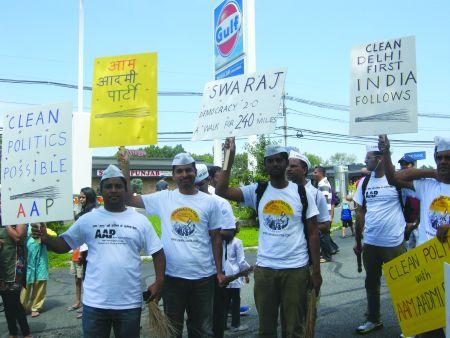 The surprise victory of the Aam Aadmi Party in the recent Delhi assembly elections has brought to the fore the crucial role played by the party's Non Resident Indian supporters across the globe.
Local country and city teams of AAP consisting of NRIs from across the world adopted a particular Delhi constituency in an innovative programme called "Adopt a Constituency", said Shalini Gupta, spokesperson of AAP's global supporters.
The NRI teams adopted 16 assembly constituencies, of which the nascent party won in 12, which included that of its key leaders Arvind Kejriwal, Manish Sisodia, Somnath Bharti and Rakhi Birla.
"When a constituency is adopted our primary target is to help raise the funds needed for the constituency and arrange for material support such as laptops, office equipment, etc," Gupta told PTI.
For instance, the Australia chapter of AAP adopted New Delhi constituency from where Kejriwal contested while AAP Bay Area (Silicon Valley) adopted the Patparganj assembly constituency from where Sisodia contested.
AAP Chicago adopted the Delhi Cantt constituency from where its candidate Surrender Singh won.
AAP Houston and AAP Atlanta chapters joined hands to adopt the Malviya Nagar constituency, from where Bharti won while Mangolpuri, Birla's constituency, was adopted by AAP South Korea and AAP UAE.
While AAP UAE adopted the constituency of Babarpur, AAP Germany adopted Burari; AAP Michigan (Mehrauli), AAP New Jersey (Narela), AAP Dallas (Sangam Vihar), AAP UK (Seemapuri), AAP South Korea (Shalimar Bagh) and AAP Singapore (Trilok Puri).
Matia Mahal constituency was jointly adopted by AAP chapters of Bay Area, Kuwait, Ghana and Nigeria; while AAP Washington, DC and Singapore adopted Model Town constituency and Hari Nagar was adopted by AAP France and AAP Netherlands.
In addition to raising funds and arrangements for materials, "adopting a constituency" also meant working with campaign managers to provide assistance in tasks that can be done remotely. As a result, the campaign in these constituencies ran 24X7," Gupta said.
While many teams made calls to line up "gali prabharis" or booth agents, others did data entry and managed databases.
"A team directed new volunteers to the appropriate constituencies by calling them and capturing information. Technology development support, preparing campaign materials, and also managing social media and Facebook pages for candidates were other tasks they performed," said Chicago-based Gupta who is also the overall coordinator of the AAP Global NRI support group in 30 nations.
Image: AAP volunteers participate in a 200-miles long 'Swaraj Yatra' from Washington, DC to Edison, New Jersey in August, 2013