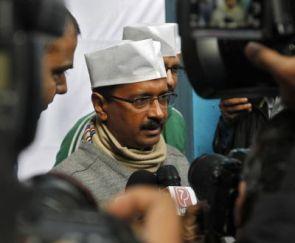 Aam Aadmi Party on Thursday did not rule out Arvind Kejriwal contesting the Lok Sabha polls, with an AAP leader saying no decision has been taken on whether Delhi MLAs or the chief minister would be in fray.
"No formal decision has been taken by the election committee on whether any MLA would not contest Lok Sabha elections," Yogendra Yadav said.
"The party has also not taken any decision that Arvind Kejriwal will not contest elections," he said, indicating that the Delhi chief minister may be in the race for prime minister's post if the party is in a position to form the government.
Kejriwal had earlier said that he would not contest the Lok Sabha elections and no AAP MLA would be allowed to fight the polls.
When asked by reporters over Kejriwal's statements, Yadav said, "He said this on basis that if MLAs are interested in contesting the Lok Sabha polls then how are we going to run the government. Anyways, we just have 28 MLAs."