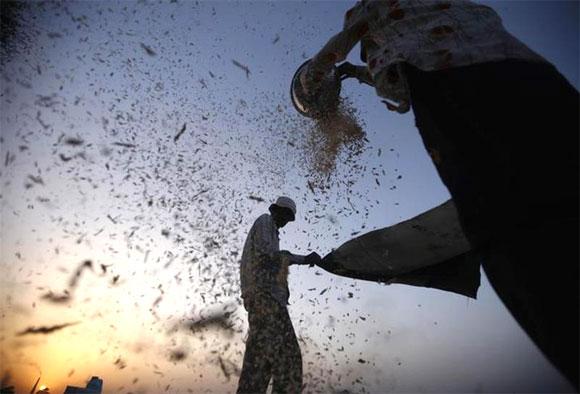 The Congress on Saturday rubbished media reports that it is going to use the Food Security ordinance as a trump card in the 2014 Lok Sabha polls, saying the United Progressive Alliance government at the Centre has come up with various schemes in the social sector and for the nation's welfare during its nine-year rule.
Speaking to the media after the conclusion of the meeting chaired by the Congress President Sonia Gandhi of Congress Chief Ministers and Pradesh Congress Committee chiefs, the communications department chief of the party Ajay Maken said, "I have said it earlier also that during our nine-year rule we have brought several measures, be it Mahatma Gandhi National Rural Employment Guarantee Act, loan waivers scheme for farmers and right to information. So, this is a step ahead in that direction. It should not be seen in isolation. We have brought several schemes in the social sector and for the people of the country during our nine-year-rule."
The party chief ministers and PCC chiefs discussed the steps for implementation of the Food Security scheme. Haryana and Delhi indicated that the scheme could be implemented from August 20.
"In the meeting, the Haryana chief minister said that he is in a position to launch it from 20th of August," Maken said. Maken further said that the various chief ministers have assured that they are going for a speedy implementation of this ordinance in their respective states.
"All the states have said that will go in for a speedy implementation. Two states only specified the dates today, the rest of the state chief ministers while welcoming this ordinance they said they will go for a speedy implementation of this ordinance.
Maken informed that Union Food Minister K V Thomas gave a presentation on the National Food Security Ordinance during the meeting.
"Following the presentation, all the chief ministers thanked the Congress president, prime minister and Rahul Gandhi for bringing about this landmark legislation which will help empower 82 crore Indians with the legal right to food and will serve as a bulwark to fight against malnutrition and deprivation," said Maken.
"The chief ministers were highly appreciative of the fact that the proposed legislation is based on a lifecycle approach that attempts to ensure adequate nourishment for every age group starting right at the time when the child is in his mother's womb," he added.
As many as 34 party leaders, including chief ministers of 14 Congress-ruled states, All India Congress Committee general secretaries and members of Congress core group, were present in the meeting along with Prime Minister Dr Manmohan Singh and party Vice-President Rahul Gandhi.
According to reports, Delhi will roll out this scheme on August 20, the birth anniversary of former Prime Minister Rajiv Gandhi.