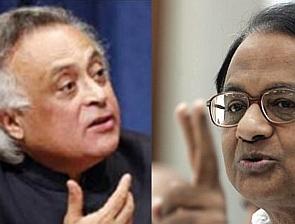 Prime Minister Dr Manmohan Singh had to intervene to control a 'big fight' in the Union Cabinet meeting between Rural Development Minister Jairam Ramesh and Finance Minister P Chidambaram on Wednesday, over serious differences on Assam and Jammu-Kashmir getting extra grants from the Pradhan Mantri Gram Sadak Yojana.
Six Union ministers also shouted slogans at Chidambaram's resistance. As tension prevailed for 15 minutes in the Union Cabinet, a bewildered prime minister asked Chidambaram to remain silent, even as the PM and Congress president Sonia Gandhi both supported Jairam.
"I represent Assam, I overrule your objections while approving the grants for Jammu Kashmir and for Assam," was the cryptic ruling of the PM. The joy for many Union Ministers of having gotten the approval for the Ordinance on Food Security Bill -- evaporated quickly -- inside the Cabinet meeting as Chidambaram vehemently opposed package for laying roads in Assam and JK. This subject was an additional agenda for Wednesday's Cabinet meeting.
Ramesh initiated the Cabinet note while saying that "that within the sanctioned grant I plan to raise the percentage of expenditure for laying special connectivity gramin (rural) roads in Assam and J&K." When Jairam was explaining his Cabinet note, an angry Chidambaram intervened to oppose the note.
Senior Union Minister Farooq Abdullah also vehemently protested against Chidambaram.
While addressing Chidambaram, he said, "You know that Dr Singh is elected from Assam. Give him the respect due in clearing the PMGSY -- also for my state J&K." Paban Singh Ghatowar, another union minister from Assam, also stood up to speak against Chidambaram's views and argued for extra funds.